Da Nang, a coastal city located halfway between Hanoi and Ho Chi Minh city, has become a modern tourist magnet in recent years. Ridiculously popular with South Korean tourists, the city features a charming mix of rapidly growing skyscrapers, resort beaches and bridges. It also serves as a convenient launching base to historical cities such as Hoi An and Hue. In September 2022, Da Nang was again named "Asia's Leading Festival and Event Destination" at the World Travel Awards.
So is Da Nang worth all the hype? While I only spent two days there, I am definitely glad I went. The vibe is markedly more chill than Hanoi, and we were seriously spoilt at The Blossom Resort Da Nang. The compactness of the city also allowed me to cover all the things I wanted to do, even with limited time. Namely…
1. The Instagram-favourite bridge at Ba Na Hills
I'll admit that what placed Da Nang firmly on my bucket list was the bridge with the two giant hands holding it up. Despite knowing how touristy it was, the photos were just too cool.
It wasn't until researching for my Vietnam trip that I discovered that the bridge was actually located inside a theme park called Ba Na Hills. And an unfinished theme park, at that.
Ba Na Hills is located around a 45-minute drive from central Da Nang, and there is no public transport to access it. So you need to either get a taxi, or book a shuttle/tour that will take you there. We had our hotel arrange a taxi for us at a fixed price.
The area, formerly a French resort, has been drawing scores of local and international tourists after a new cable car system officially opened in March 2013. The system currently holds the Guinness record for the world's longest non-stop single track cable car.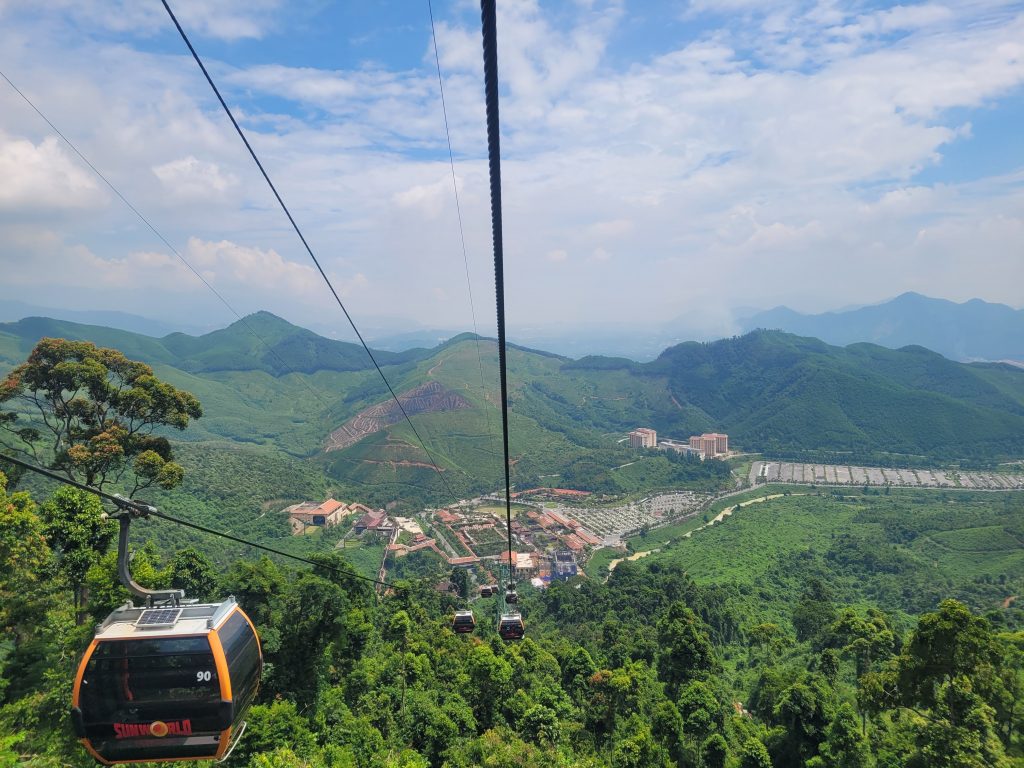 The bridge in question is called Golden Bridge, and it opened relatively recently in June 2018. Is it as cool in real life? Totally, except you should be prepared for swarms of people in your photos. Unless you go first thing in the morning, it is practically impossible to get a solo shot on the bridge.
The rest of Ba Na Hills is nothing too unusual or amazing, just your standard theme park fare. There are a range of attractions, including an alpine coaster, funicular and a 4D theatre. As of September 2022, some parts of the park, including a castle, are still under construction.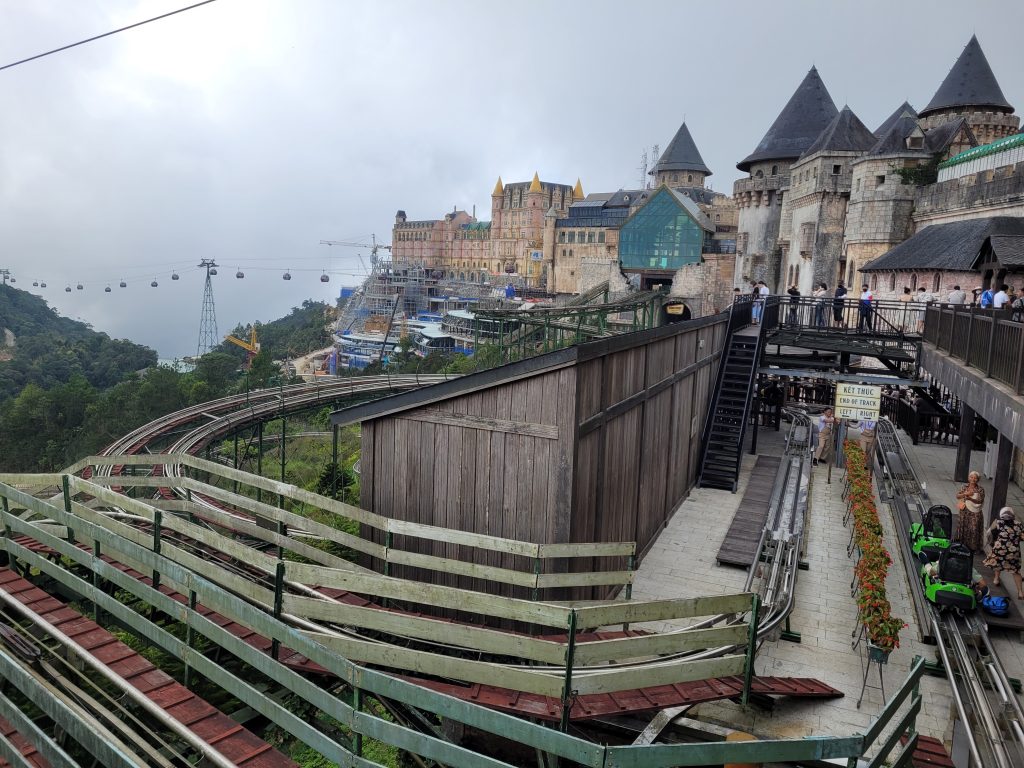 Tickets for Ba Na Hills cost 850,000 VND for foreigners, but you can usually get a slight discount if buying in advance on sites like Klook. The entry price does not include the wax museum and some games on site.
2. See Dragon Bridge come alive + Son Tra night market
Da Nang can be called a city of bridges. Downtown sits another very cool bridge, one that is lit up every night and breathes fire and water on weekends at 9pm.
Stretching over the Han River, Dragon Bridge is 666 metres long and has six lanes for traffic. True to its name, it holds the shape of a dragon. Coincidentally (or maybe not), like Ba Na Hills it also opened in March 2013.
The fire and water show was more fun than I expected. When the dragon breathes fire, you can feel the heat from the flames. When it releases a spray of water, it drenches anyone standing close enough. There were squeals of laughter and shock from unsuspecting audiences, and one kid even started crying. People began to move back in preparation for the next spurt, but I just stayed there enjoying the cool drops in the humid night.
Quite a significant amount of water falls, so you will get drenched if watching the show from nearby. As such, make sure you protect your camera/phone/etc. if they are not waterproof.
After enjoying the free 15 minute show, you can head to the nearby Son Tra night market, which sits below the dragon head side of the bridge. The market is rather small, but there is a range of cheap local food available, as well as the usual goods. Plus, you can't say you've been to a Southeast Asian city without visiting its night market!
3. Visit both heaven and hell at Marble Mountains
Marble Mountains is a cluster of five limestone peaks located around 7 km from Da Nang, in the direction of Hoi An. Each of the five mountains are named after the five elements of water (thuy), fire (hoa), earth (tho), wood (moc) and metal (kim).
Thuy Son, the only mountain officially opened to the public, is by far the most interesting. It contains the Am Phu Cave, a Buddhist re-creation of a hell where sinners confess crimes and suffer punishments.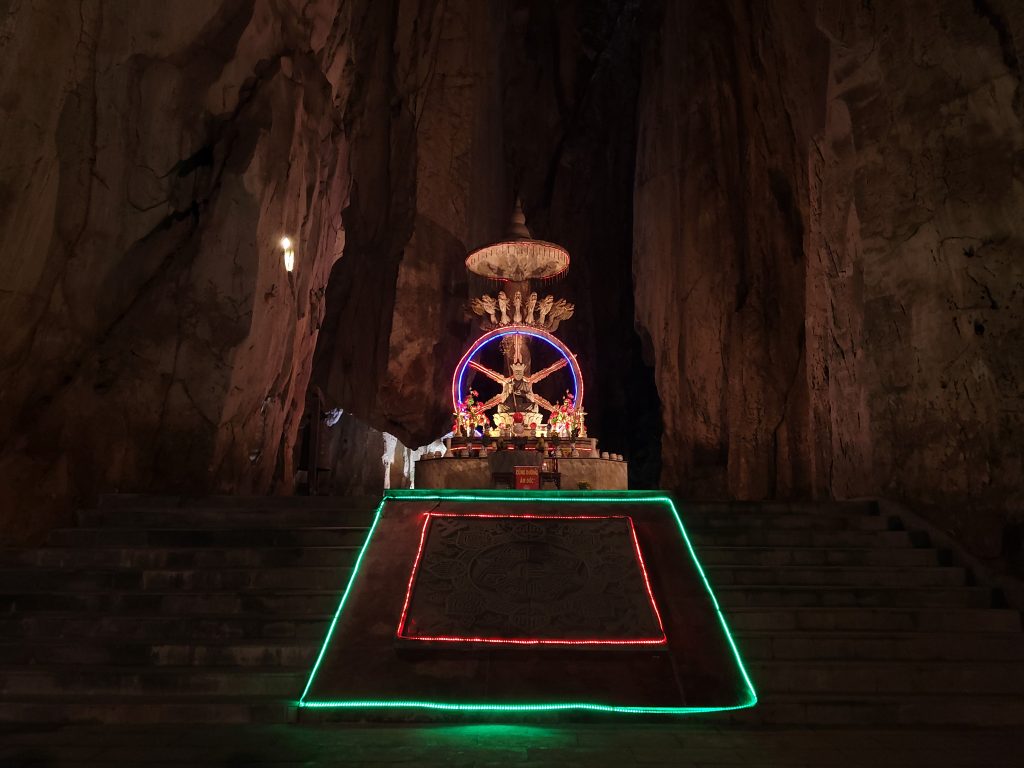 Atlas Obscura puts it best:
"…the natural rock formations, stalactites, and pitch-dark tunnels are enhanced with frightening figures and altars created by local artists. It is not unlike walking through a haunted house, with surprises lurking around every corner."

– Atlas obscura
It was obviously too haunting for some. While walking down a steep set of stairs to descend into "hell," an Asian lady in front of us suddenly turned around, saying "I'm too scared," and left. While it did get a little creepy at times, the constant presence of other people quelled any fears. Plus, I was more concerned about not stacking it on the stairs. After walking for hours in Hanoi and the DMZ in days prior, my calves were already aching.
After escaping from hell, you can climb another set of stairs to ascend to "heaven." Exiting from the hole of light above grants you a vista of the Marble Mountains area.
In addition to the five karsts, there are a bunch of large caves and pagodas to explore. There are a ton of stairs, so prepare for a workout. You can also take the elevator to the top of the mountain (15,000 VND one way). It is near impossible to cover all of the sights without dedicating a whole day to it, so we just hit up a few spots in addition to Thuy Son.
The entrance fee for Marble Mountains is reportedly 40,000 VND per person, but for some reason the ticket lady did not charge us the day we went. We just paid for a map (and a set of badly printed postcards) for 15,000 VND. Not being able to speak Vietnamese, I'm not sure why. Maybe they were having a "free day"?
4. Take a day trip to Hoi An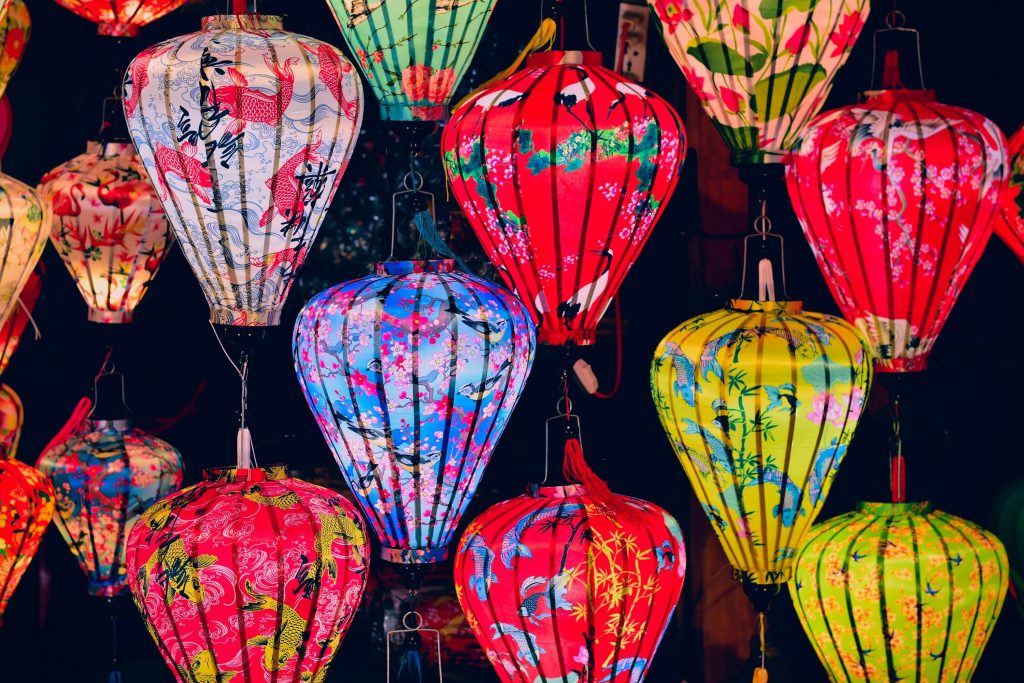 Hoi An, a UNESCO World Heritage Site, is an easy day trip from Da Nang at around a 45-minute drive away. Famed for its yellow-walled riverfront buildings and colourful lanterns, it is charming by day, but becomes truly magical at night.
Hoi An's unique architectural fusion can be attributed to merchants from China, Japan and Europe, all who settled in the city from the 15th to 19th centuries. The well-preserved ancient town can easily be explored on foot, although you can also elect to rent a bicycle. Another popular activity is taking an evening boat ride and releasing a lantern on the river.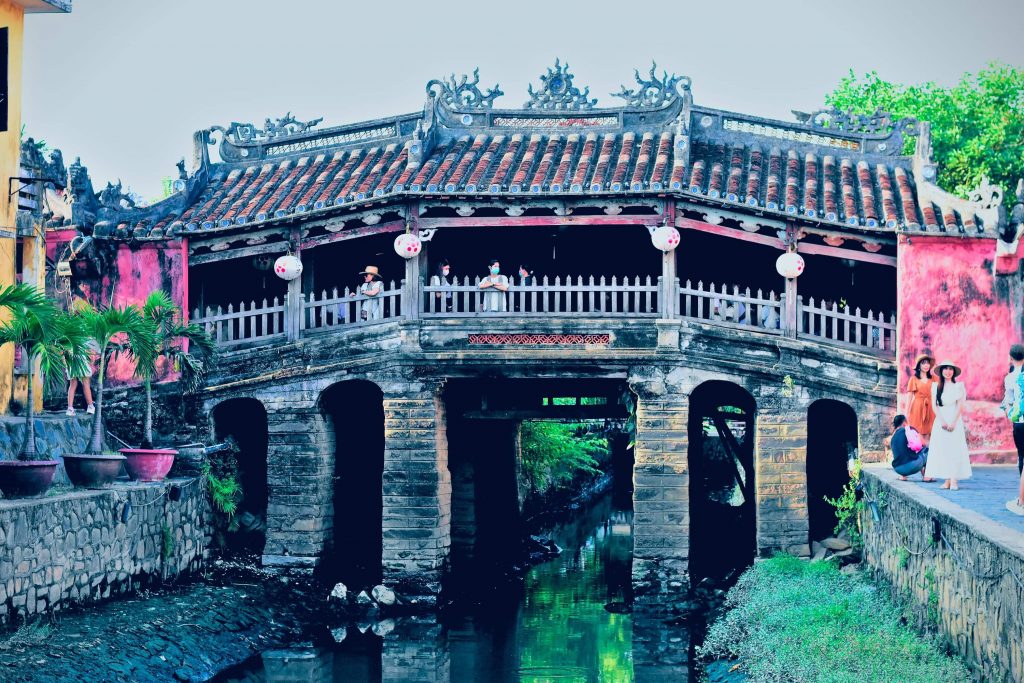 When walking the streets, we came across a little cafe which had a long line in front. We joined the line and discovered it was for a herbal drink. Curious, I decided to order one and try it. It was sweet and refreshing, but not sure what all the fuss was about. Probably its Instagrammable presentation?
To my consternation, there is also no shortage of touts on Hoi An. This fruit seller pretty much forced us to buy a bag of her fruit after insisting we take a photo with her. She asked for 200,000 VND, but we managed to haggle her down to 50,000 VND. I ate the bananas and rambutans before leaving Vietnam as I didn't want to waste them, but I believe they were what gave me explosive diarrhea the next morning.
The weekend we went it just happened to be Mid-Autumn Festival, so the atmosphere was particularly festive. Some tourists even dressed up in traditional Vietnamese attire, including these two girls (whom I'm pretty sure where South Korean).
5. Ride the Reunification Express from (or to) Hue
The stretch of rail between Da Nang and Hue is reputed for being the most beautiful train route in Vietnam. The 2.5 hour journey on the Reunification Express will take you through the scenic Hai Van Pass (literally "ocean cloud pass"), a mountainous piece of land that juts into the East Sea.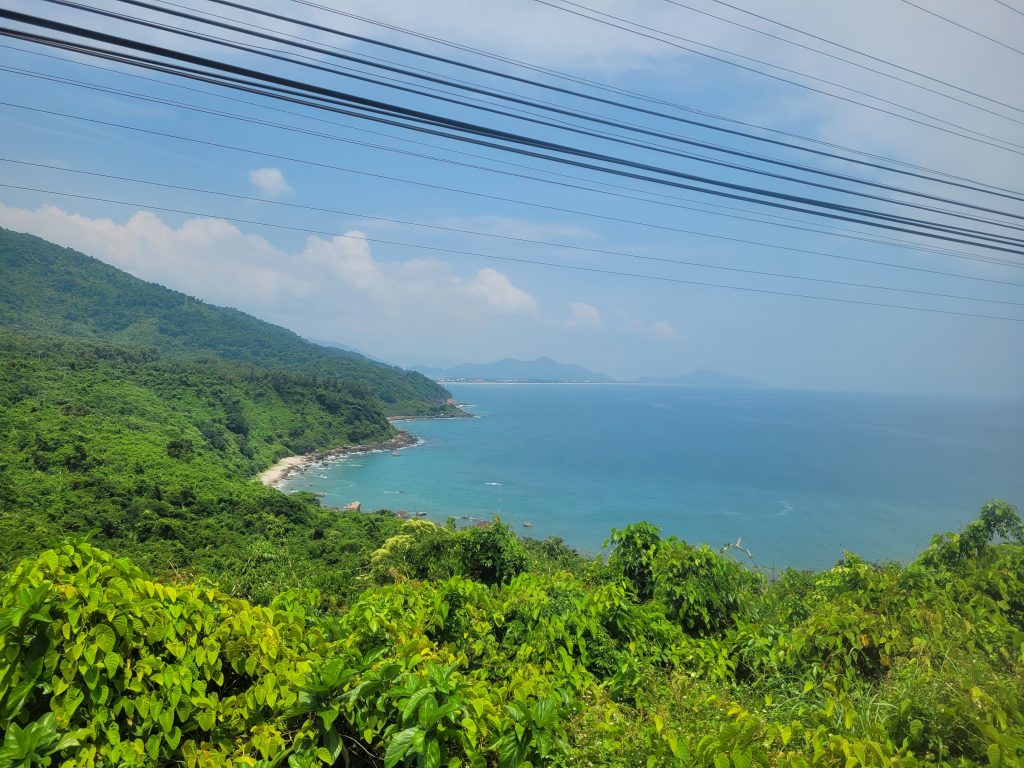 Since I was making my way down from Hanoi, I took the train from Hue to Da Nang. Meaning the coastal views were on the left facing the direction of travel. If you booked a cabin, the view can be seen from the cabin windows. Obviously, if you are going in the other direction (Da Nang to Hue), the view will be on the opposite side.
Hai Van Pass is also famous among motorists for its 20km stretch of winding, mountain road offering panoramic coastal views.
Hue, meanwhile, was the historical capital of Vietnam. It contains the Imperial City, with palaces and shrines, as well as numerous other structures of the former citadel.
Da Nang is also home to handful of historical sites like My Son Sanctuary, but due to time constraints I did not visit them. I've seen my fair share of temples and Buddhist relics in Japan, China and Thailand, so I usually skip such sites unless there is something usual about them. They may be worth visiting for some though, so this itinerary of mine is far from definitive!
Check out the archives for more on my Vietnam travels.