Hot on the heels of semi-surreal experiences like the Robot Restaurant and Kawaii Monster Cafe , comes a raunchier form of immersive entertainment: BURLESQUE Tokyo. Located in one of the centres of nightlife, Roppongi, the show mixes Japanese underground culture with sexy cabaret and a dash of otaku-ism. While not exactly what one would call family-oriented, it's surprisingly wholesome and gets full points for audience interaction. You definitely won't be disappointed with the girls. They are all gorgeous, friendly, and a lot of fun.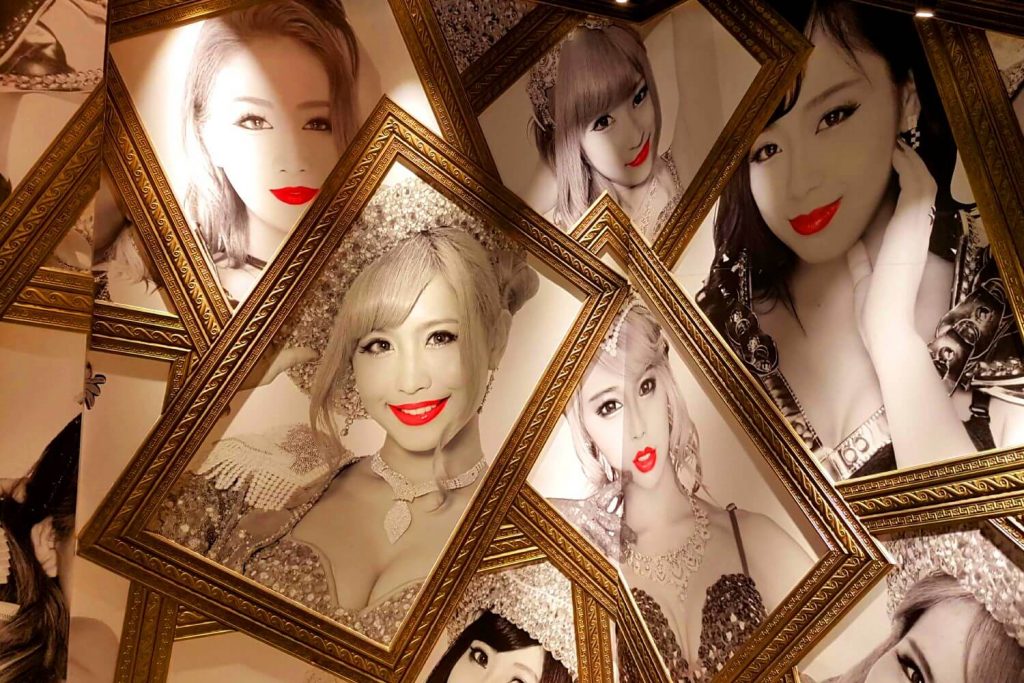 Here's an idea of what to expect!
The pre-show
You can enter the club up to 1 hour before the show officially starts. During this time you can interact with the girls on a more personal level. A lot of the girls will still be stretching and preparing for the night, but they will happily oblige to photos and talk with you if you approach them. Business men who had also come early were having their drinks poured for them by scantily-clad girls and chatting in a way that would make any straight man envious.
Also by going early you can ensure you get a table close by the stage. If that's what you want.
Pre-show Munchies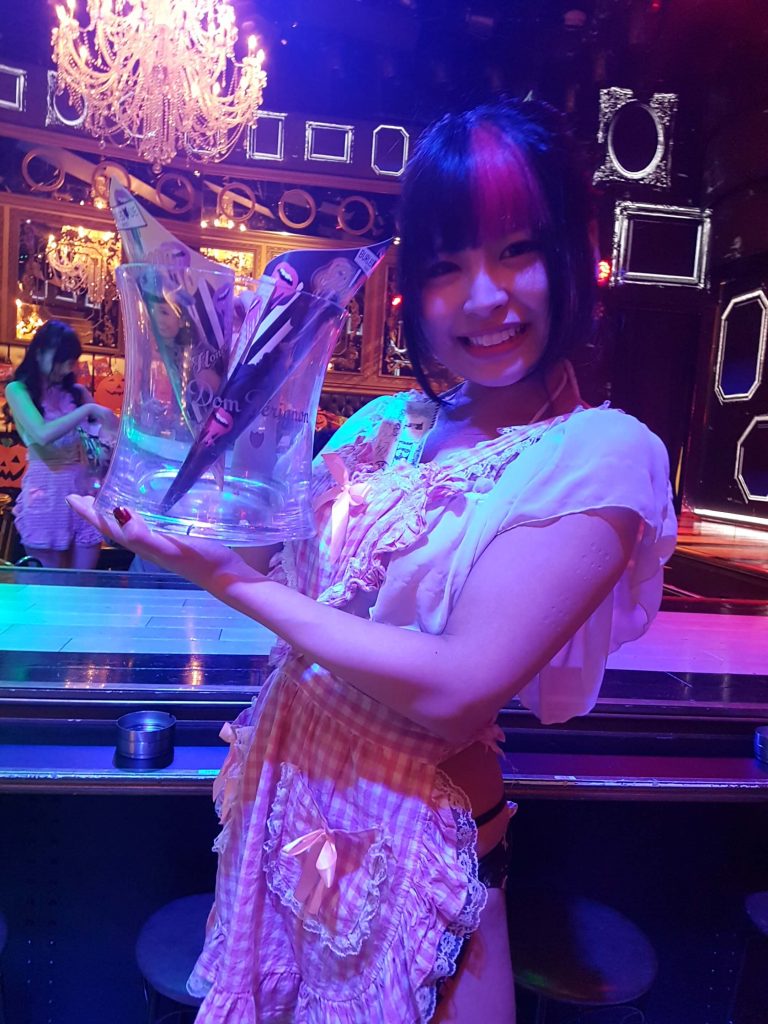 A little closer to the start of the performances when more people have arrived, the girls will start going around to the tables. On the night we were there, one of the girls played jan-ken-pon (Rock Paper Scissors) to give away popcorn, while another fed each person a piece of karaage. You can also buy food and drinks yourself, and some tickets come with all-you-can-drink or a bento (lunchbox meal).
The BURLESQUE Tokyo Show Itself
The performances last around 80 minutes in total. Before going, I just expected a B-grade type Chicago show that can be found anywhere. I was pleasantly wrong. The performances actually showcase a lot of unique Japanese culture, especially the hyper dance, AKB48 songs, and moe flavor that is popular in otaku circles.
You are even given light-up sticks to wave around. Thankfully, the show also features a lot more mature, sexier content. Pole dances, acrobatics and singing numbers reminiscent of true burlesque are all on the agenda.
The girls sporadically entertained the audiences with waves, smiles and poses. Some lucky ones with stage seats even got to receive a "shot" of alcohol via fake syringes.
The relatively "wholesome" part was during the intermission. They played videos of the girls practicing hard and giving brief interviews of their childhood dreams to be a recognised dancer.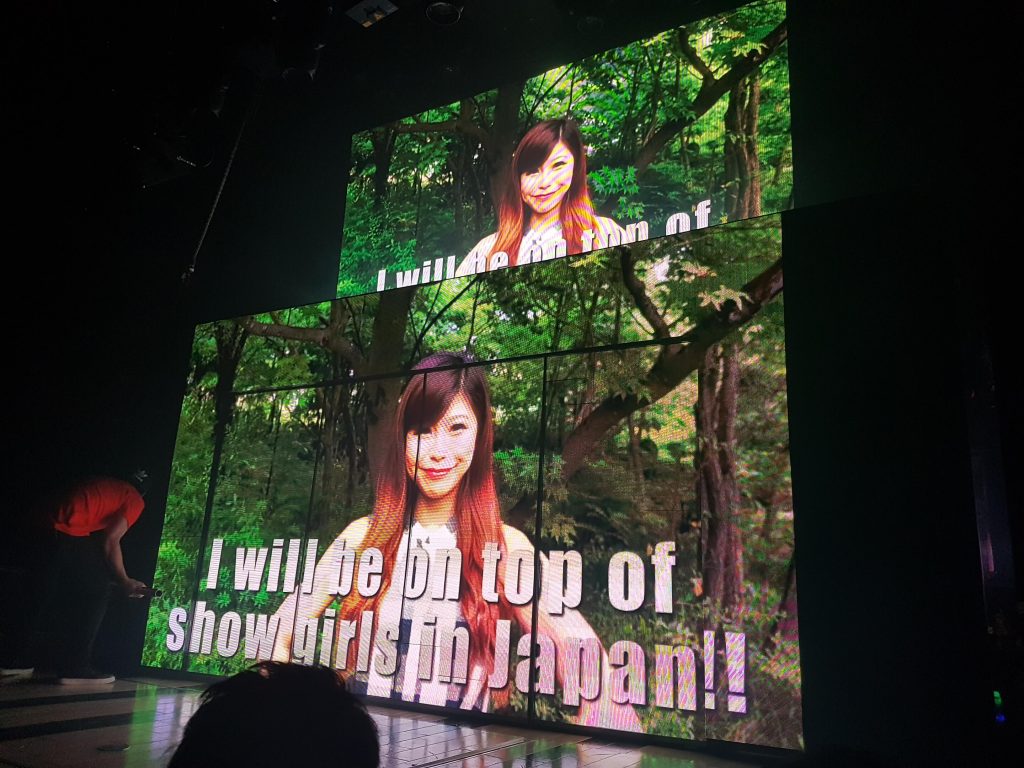 Near the end of the show, all the women in the audience were indiscriminately pulled onto the stage by the showgirls and made to dance in an insane, random mess to songs like Gangnam Style. The energy was infectious! The venue bursting with neon lights, heavy beats and hot girls really creates an out-of-this world experience that cannot be conveyed through words. You just have to experience it yourself.
Extra Service for Birthday Boys (and Girls)
If it's your birthday and one of your friends has informed the staff of that fact, you will be treated to a photo on stage surrounded by the girls. And, embarrassingly, sung Happy Birthdayby everyone in the venue. Both men and women will get this royal treatment, so if you want to surprise that friend of yours, why not take them to BURLESQUE Tokyo? Foreigners may also get the chance to get pulled on stage and get a happy snap with their country's flag.
Wrapping it Up
During all this birthday singing near the end of the show, all the girls made their rounds through the audience again, making sure to shake every person's hand. Customers who purchased "RION", the cash chips used at the venue, can also stuff them into the bikini of their favourite girl as tips. These girls, for example, had a good night.
Of course, you can also use this time to take photos with them or ask them questions. But keep in mind they probably already get dozens of marriage proposals a night.
Getting to BURLESQUE Tokyo
The closest station is Roppongi Station, located on the Toei Oedo and Tokyo Metro Hibiya subway lines.
Address: 港区六本木3-8-15 六本木日拓ビルB2F
B2F Roppongi Nittaku Building, 3-8-15 Roppongi, Minato-ku
BURLESQUE Tokyo is open everyday from 6:30pm to 1am to next morning.
Getting Tickets
Updated: May 6, 2022
Show are held 3 times a night at 19:20, 21:20, and 23:20. Shows last for 80 minutes each, so be warned that you will not make the last train back if you go for the latest show. Note that you have to be 20 years and over to enter this establishment.
You can easily book tickets using the reservation system on the official website. English is supported. Foreign visitors can take advantage of a special ticket set for 7,500 yen which includes: the show, a free drink, an appetizer, a light stick, and 10 RIONs.
If booking through the official website in Japanese, you can take advantage of an early bird special for 5,500 yen (at least one week in advance) or 6,000 yen (at least one day in advance). It only includes the show and a free drink though. Ladies can get an even better deal for 4,000 yen if booking for the first time, which includes the show, a free drink and a light stick.
For some reason the listed show times at 19:00, 21:15 and 23:30 are slightly different to the special ticket for foreigners. As always, check the official website for the latest information before going.
Read more articles on things to do at night in Tokyo and other cities!