Dogenzaka Church in Tokyo's constantly evolving Shibuya district is not your typical place of worship. While during the day it apparently operates like a real Catholic church, after the sun sets it transforms into a hip bar aptly named "The Church." Here you can drink, dance and confess your sins all in one place.
The Dogenzaka Church vibe
Walking along the hilly main street of Dogenzaka, you can't miss the glowing cross and open wooden doors of The Church. Located on the ground floor of a tall, narrow building, you can sometimes spot staff in nun habits hovering around the entrance or talking with potential visitors.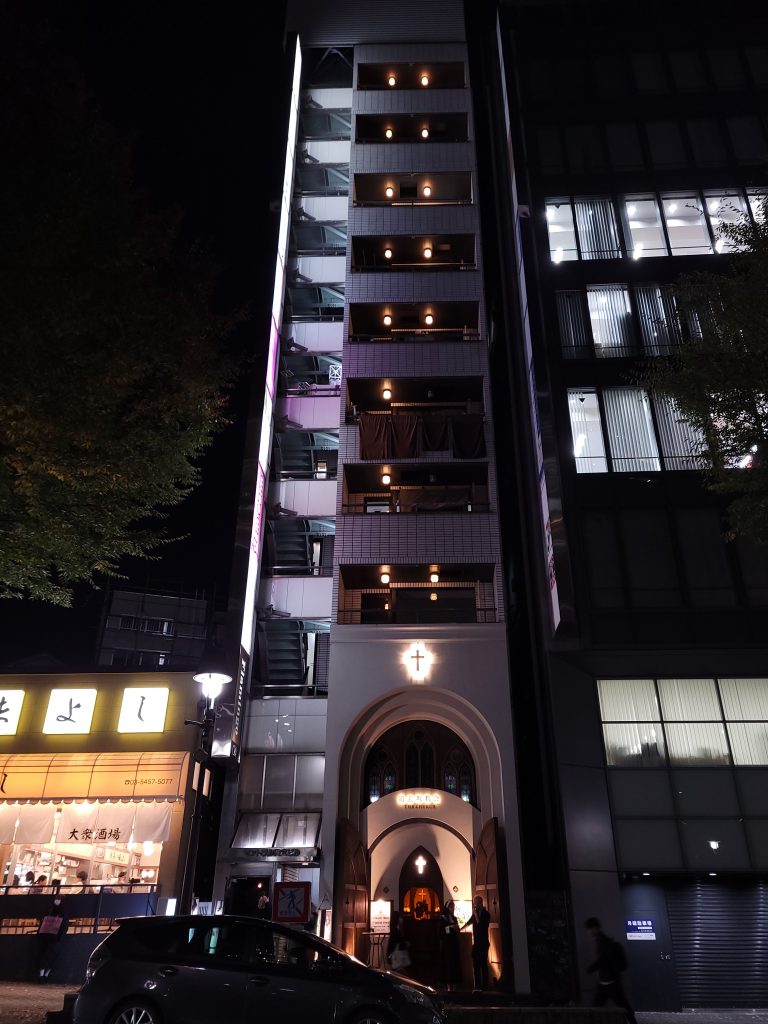 The first thing you see upon entering the dimly lit establishment is a DJ pumping beats on a pulpit, complete with a crucifix hanging on the wall behind them.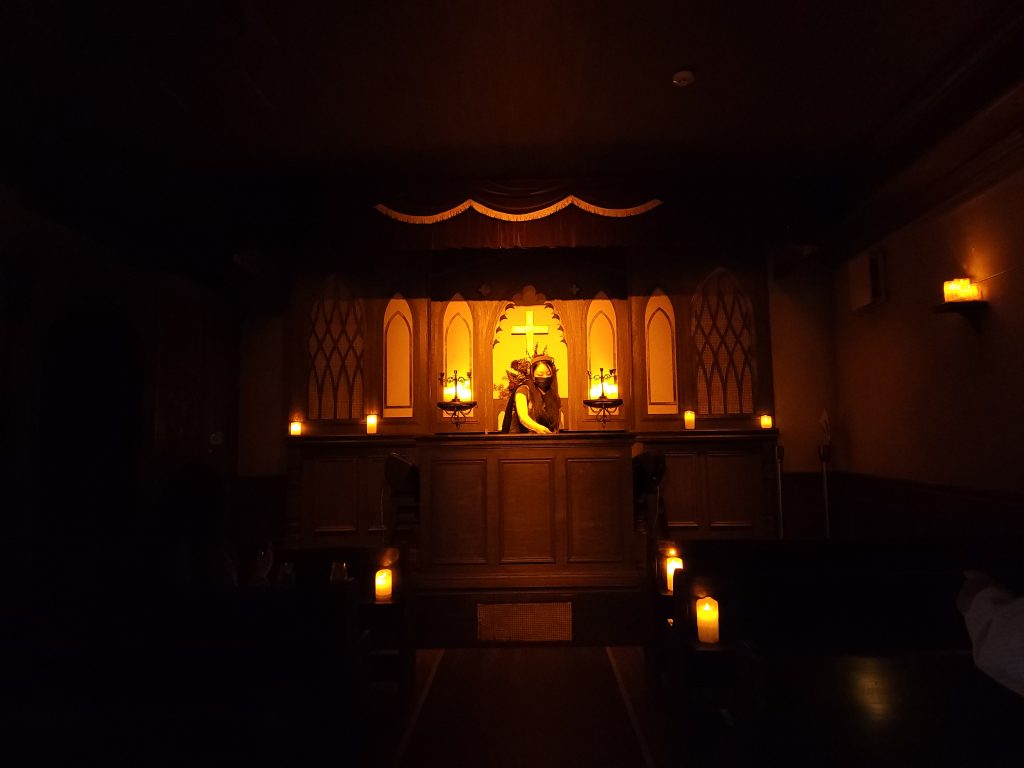 To the left of the stage is a confession box. But with faux candles providing the only source of light, taking decent photos can be a bit of a challenge.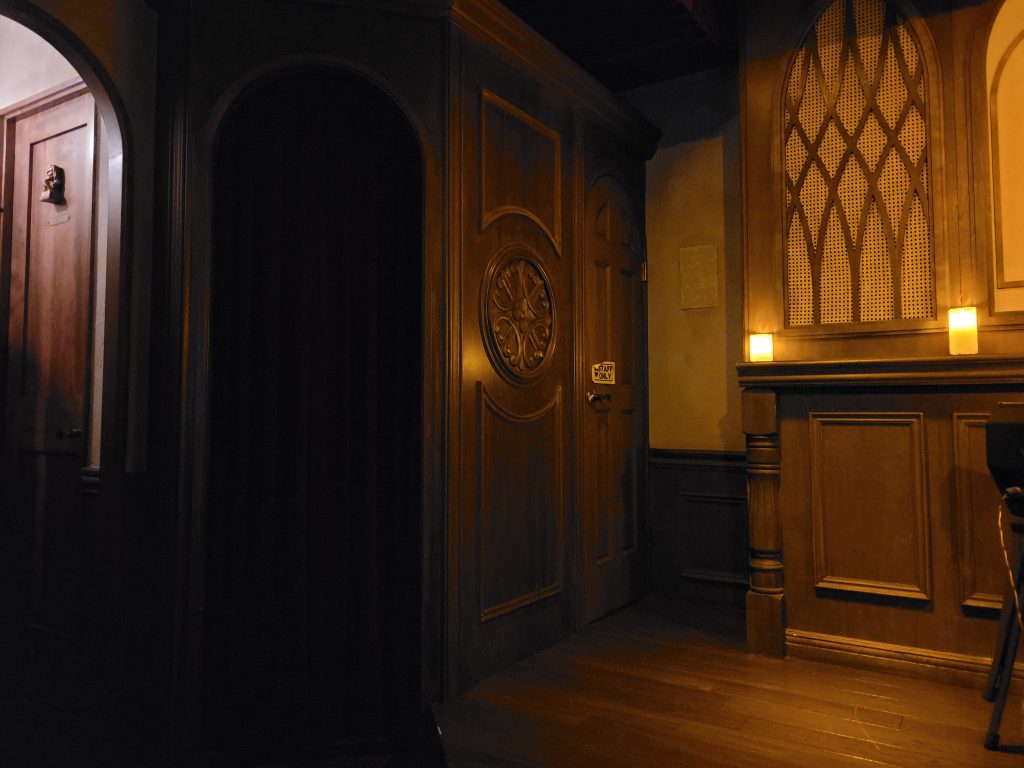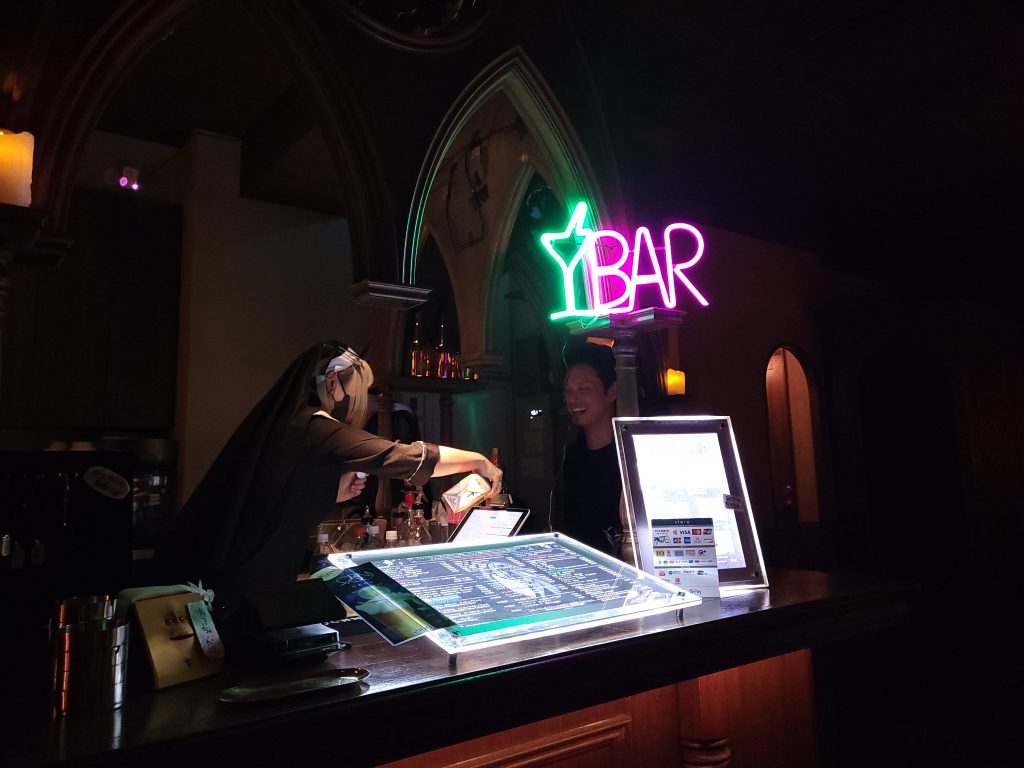 In almost complete darkness, customers sit on rock hard pews facing the pulpit while bar staff dressed as nuns serve drinks. On the bar counter, there are cross necklaces and colourful rosaries for sale.
The whole setup is quite absurd to be honest. And I love it. Being a Christian (albeit not Catholic), an avid explorer of themed establishments, and a fan of EDM, it really pushed all the right buttons for me.
Bar system at The Church
While there is no entry charge, every person must order at least one drink. The drinks are fairly reasonably priced, starting from 500 yen.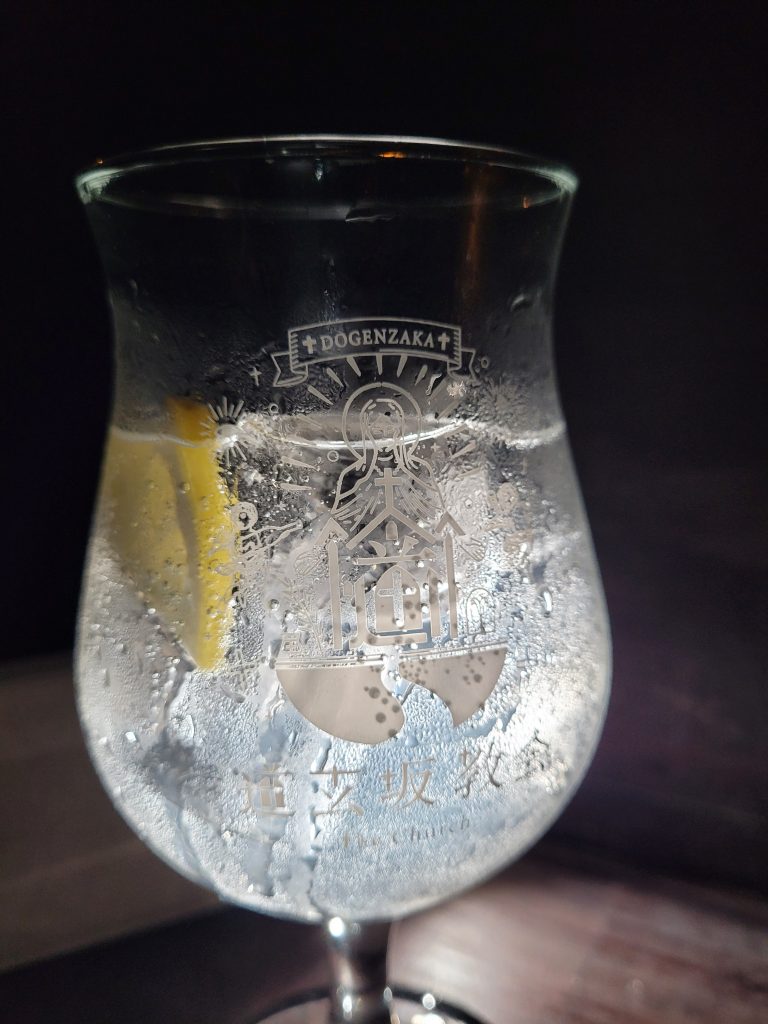 Music events with a range of DJs are held regularly at The Church. Every Wednesday from 8:30pm to 11:30pm is "Godbless," a three DJ lineup that changes every week. You can check the official website for the latest schedule.
Not much food besides your typical drinking snacks is available, so make sure you eat before going. Unfortunately, smoking is allowed inside.
The venue can also be booked out for use as an event space before 10pm. Capacity is 50 people sitting, or 200 people standing.
A bit of background
Dogenzaka Church is a relatively new establishment, having only opened in February 2022. It is the 15th venue opened by LD&K, an entertainment group operating live music venues around Shibuya. The company also runs Sakuragaoka Cafe, famed for its two resident goats, and Cafe Bohemia, a gypsy club in Tokyo.
The president of LD&K is Hidemasa Otani, who made this rather cryptic comment in a press release last year announcing the opening of Dogenzaka Church.
『コロナ禍に私が最期に創るのは「道玄坂教会」。
コロナ禍が落ち着けば私の出番は終わる。
終活に向けレギュラーのラジオも今年いっぱいに、自ら店に立つのも来春までにしようと思っている。世の中が茶番だという事を私が証明したい。
「道玄坂教会」では私の葬式の様なイベントをやっていく予定。レクイエムをお楽しみに。』

— Hidemasa Otani, president of LD&k
My translation:
"I will create Dogenzaka Church in the final moments of the coronavirus pandemic. Once the pandemic is over, my time will end. In preparation, I plan to end my regular radio work by this year, and stop establishing new stores on my own by next spring. I want to prove that everything in the world is a farce. I plan to hold events like my funeral at Dogenzaka Church. Look forward to a requiem."
Ummmmm, Otani gets points for probably the most chilling press release comment ever. Curious, I started Googling to see if he is really on his deathbed. I stumbled across an old interview of his, which revealed he was born in 1968 in Aichi Prefecture, and started his own company (now LD&K) at the young age of 23.
More pertinent, I found his Instagram account, which is updated daily (sometimes more). Photos on the page showed Otani to be healthy, partying hard, and showing no signs of slowing down. He even appears to have an alter ego — DJ皆殺しP (literally "everyone killer") — that regularly plays at Dogenzaka Church and other venues. So what was with the foreboding press release comment? No idea. Maybe it was a dark inside joke from a rather quirky character? I guess we'll just have to wait and see.
Getting to Dogenzaka Church
Dogenzaka Church is a 2-minute walk from Exit A0 of Shibuya Station on the JR and other lines. Or a 5-minute walk from the Hachiko statue outside the JR line exit.
Address: 東京都渋谷区道玄坂2丁目16−5 セントラル共立ビル 1階
1F Central Kyoritsu Bldg., Dogenzaka 2-16-5, Shibuya-ku, Tokyo
The Church (as a bar) is open from 8pm to 5am daily.
If you're looking for more interesting theme cafes, particularly in Tokyo, check out the full list of my reviews.