Hazmat suits, daily PCR tests, security checkpoints that automatically ID you as you walk through and an impenetrable bubble. I just finished spending two weeks inside the so-called "closed loop" for the Beijing Winter Paralympics for work, and it was fantastically dystopian.
Here are some scenes that best capture the surreal experience of the Beijing Games bubble.
Hazmat suits galore
The moment we arrived at Beijing airport, we were given a (rather painful) nasal PCR test and then ushered by staff in hazmat suits onto shuttle buses bound for our respective lodgings. PPE gear would be a common sight as they were worn by staff who administered our daily PCR tests, as well as cleaners.
Speaking of PCR tests, I had to take a total of 18 of them for the whole two-week experience, in a mixture of all three types (nasal, throat, saliva). Seriously, I want to return to a timeline with no COVID.
A separated world
We were literally cut off from the entire population at every conceivable point, and there was no way we could have wandered out undetected. During the games, dedicated bus routes took us to competition venues, transport hubs and other relevant locations inside the closed loop, and the only way to leave our gated hotel grounds was on one of those buses.
Even at train stations, we boarded using a dedicated platform and could only ride a specific carriage on the high speed rail that was booked out entirely for us.
This meant that many times, we would find ourselves walking down eerily empty streets in downtown Beijing, or completely alone in settings that one would expect crowds.
Cyberpunk vibes
Perhaps there was no single place more cyberpunk in the bubble than the Main Media Centre. Closed off to the local population, the streets surrounding this large building was devoid of traffic and only scatterings of other bubble-life people could be seen.
In the basement of MMC were dining halls where robot arms prepared meals, and plastic panels partitioned seats, adding to the sterile, isolated vibe of a dystopian world.
Even the bar was manned by a robot arm that could make drinks.
There were also sleep cabins that could be booked out for naps. As China has a culture of taking a siesta after lunch, I'm not sure if this was used more by locals or foreign journalists.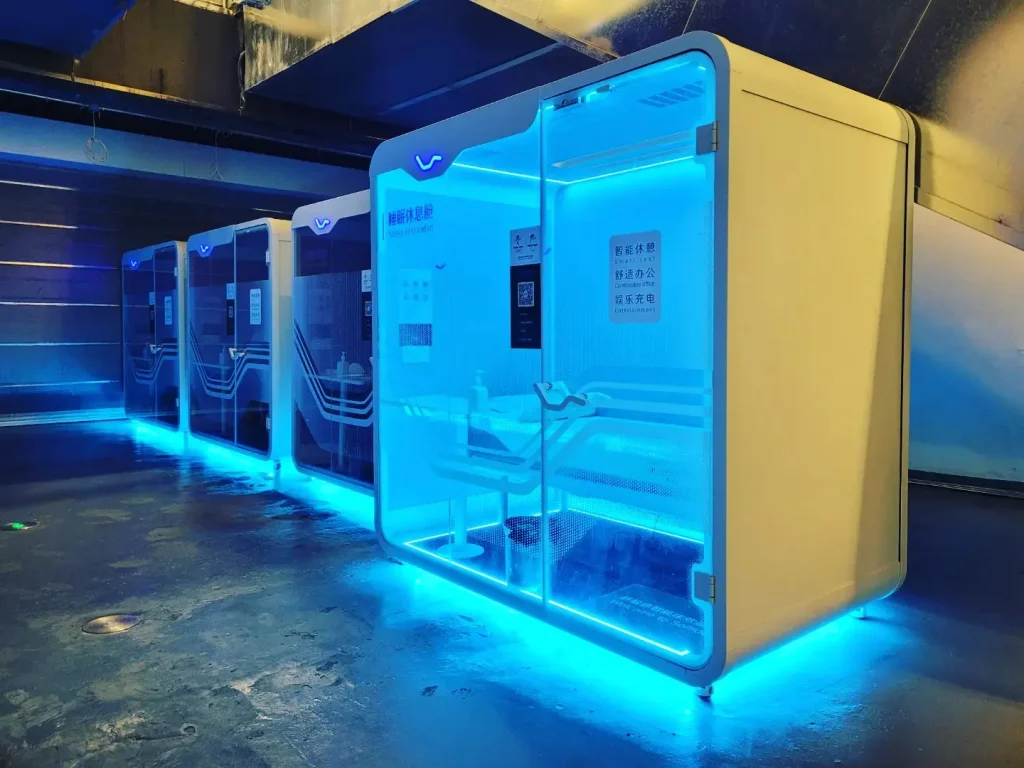 The little convenience store inside the MMC looked like an artificially generated concept art for some season.
A lot of architecture in China in general evokes cyberpunk vibes. Although not new, the Bird's Nest (aka National Stadium) and the National Aquatics Centre, which were built for the 2008 Beijing Olympics, were also used in the Winter Paralympics this time.
Bubble demographics
While there was plenty of international media around, local volunteers and staff, including cooks, cleaners and drivers, made up the bulk of the population in the Beijing Games bubble.
Volunteers, who wore blue-themed uniforms, were selected through their universities. From my understanding, only students of universities located in Beijing or Hebei provinces — where the competition zones were located — were eligible to apply.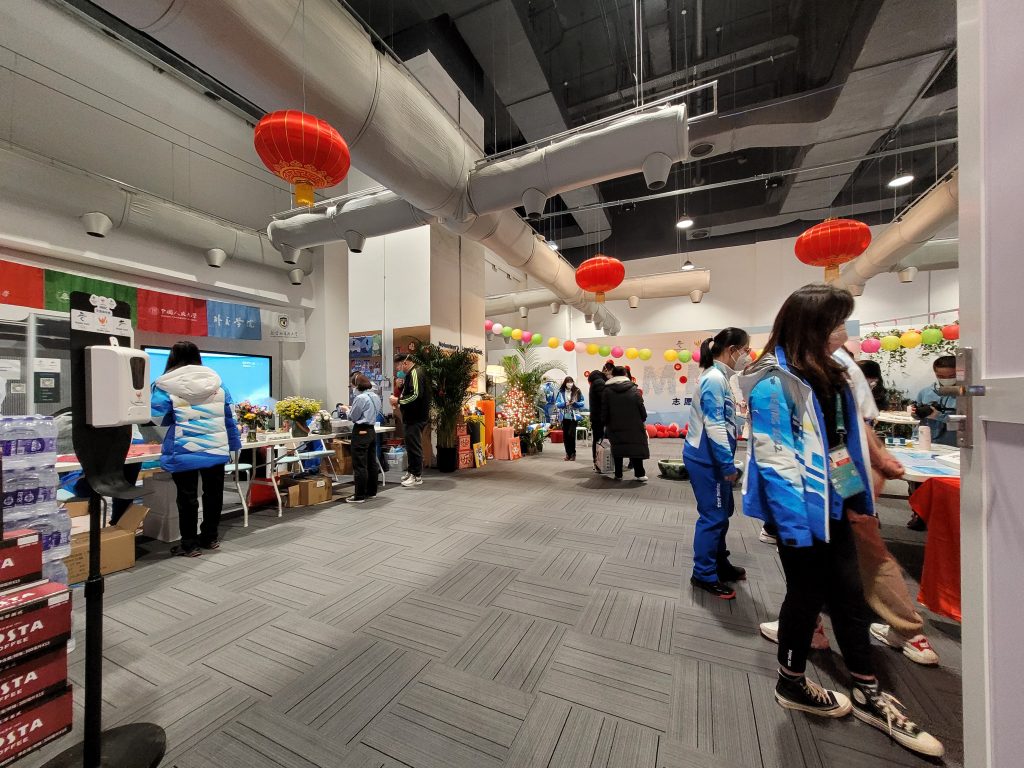 As they were obviously not paid, they received free room and board while inside the bubble. Each volunteer were also given a set of Beijing Games pins that spurred a bit of a pin swapping craze. I was asked many times if I had any pins to swap, but alas, I could not even buy any souvenirs.
Official workforce staff, who wore red-themed uniforms, were paid but could also eat free in designated dining halls.
Then there were OBS (Olympic Broadcasting Services) and OIS (Olympic Information Services) staff — some of which were local university students recruited by the International Olympic Committee. They wore dark green jackets and were paid a generous sum in Euros each day. As such, they had to foot their lodging and meals, although lunch was provided.
Lastly, there were non-government entities working in the bubble to provide a service, such as hotel staff. They lived on-site and generally did not know much about the games — they just did their job.
But they were all friendly and very helpful nonetheless. They brought us free cake on the day we checked-in and on International Women's Day.
Totaling tens of thousands, all these locals were, like us, subjected to daily PCR testing and unable to leave the bubble for any reason. Many had started working from just before the Olympics, which meant that they had been inside the bubble for almost two months by the end of the Paralympics. Furthermore, before they could rejoin the outside world, they were required to quarantine for up to 14 days from the end of the games. I was told by some staff that those living in Beijing could end quarantine at seven days.
Despite this enormous commitment, everyone I spoke to deeply valued the experience and had no regrets about being involved.
A male volunteer posted at the Banquan Service Area, a major transport hub during the games, told me he was still too young during the last Beijing Olympics, so he didn't want to miss out on this time.
"The Olympics is such a big global event, I wanted to be involved. I feel very honored to be able to help out at this event," he said.
Another local I spoke to, a paid event staff posted at the Yanqing athletes' village, said she had been involved during the 2008 Beijing Olympics as well and was "mentally and physically prepared."
Even the lady who worked in the banquet hall of my hotel, dutifully serving noodles or soup or dumplings to us each day, said while she missed her family she felt the experience was "worth it."
Final thoughts
The logistics that must have gone into creating this bubble is mind blowing, and as much as I really wished I could have gone into the "real" Beijing, I am duly impressed. The stay was comfortable, the experience one-of-a-kind, and all the locals in there with us were a pleasure to interact with. During my stay, I felt completely removed from the world, and my life in Japan was like a distant dream. It was surreal but also refreshing. Just, I could do without the daily PCR testing.
Read more episodes about my time in China, which is always a wild ride with off-the-wall interactions.