Henn Na Hotel (変なホテル), literally translated as "Strange Hotel," is an affordable hotel chain in Japan staffed by robots. When the first branch opened in the popular theme park Huis Ten Bosch in Nagasaki Prefecture in 2015, it made headlines for being the world's first robot hotel. It then made headlines again in January 2019 when the company was forced to fire half of its robot workforce at the same branch for incompetence.
But that hasn't stopped Japanese travel company H.I.S. Hotel Holdings, the operator of the hotel chain, from rapidly opening more branches in every major region across Japan in the past four years. As of December 2019, there are now 16 branches across the country: eight in and around Tokyo, two in the Chubu/Hokuriku region, four in the Kansai/Shikoku region, and two in Kyushu. Another two are slated to open in late 2020, with many more robot-staffed hotels in the works. The company hopes to open 100 of them in the coming years.
The prospect of having a hotel stay without having to interact with another human being really piqued my interest. So one fine weekend in December, I decided to try a staycation at the Henn Na Hotel Asakusabashi branch in Tokyo.
Henn Na Hotel Asakusabashi
Unlike the flagship branch in Huis Ten Bosch, the Asakusabashi branch is more subdued in its robot helpers. In fact, the only thing that sets it apart from a regular business hotel are the robots in the lobby. Any maybe the self check-in/check-out process. But there is no personal robot "butler" in the room with you, for better or worse.
The hotel spans 12 floors, with an Indian restaurant on the first floor. This is also where breakfast is served if its included in your booking.
変なホテル東京 浅草橋
〒111-0053 東京都台東区浅草橋1丁目10−5
The hotel is less than 5 minutes walk from Asakusabashi Station on the Toei Asakusa subway and the JR Chuo-Sobu lines.
The check-in process
Check-in starts from 3pm. The lobby for Henn Na Hotel Asakusabashi is located on the second floor, so you need to take an elevator up. The moment the doors opened, I was greeted with eerie silence and two life-like androids with frozen smiles standing behind the front desk.
As soon as I stepped closer, I triggered a sensor of some sort, and the male android closest to me began talking. He first spoke in Japanese, then English, Chinese and Korean.
"Welcome to Henna Na Hotel. Please use the touch screen to select your language."
I selected English and he asked me to scan my passport with the picture face down on the glass. I didn't bring my passport since I live in Japan, and there was no way to scan a residence card. So I tried manually entering my last name on the touch screen panel on the desk in front of him. Unfortunately, I got too excited and made a typo. The system returned an error saying the booking wasn't found. Immediately, without letting me try again, the android said, "I'm calling a hotel staff. One moment please."
So much for not having any human interaction.
Five minutes later, a woman came out from a door to the side of the front desk, almost looking uncomfortable she had to break the experience. I explained what had happened. She asked to see my residence card and booking number, then entered my full name in the screen and voila! My booking appeared. If the system had given me another chance to enter my name I'm sure I could have done it myself, but anyway…
Now that everything was back on track, the woman quickly disappeared through the door again, leaving me with the two androids. A machine to the left issued out a room card, since I had already paid during booking online. If you selected pay on arrival, however, you would need to settle payment before the machine will issue a room card.
The lobby
In addition to the humanoid robots, there is also a Unibo: a cute, multilingual AI robot "concierge." You can ask it questions or even just chat with it when you're feeling lonely.
To the other side of the front desk, there is a Baggageport, a DIY left luggage area where you essentially hook up your suitcase or bag to a slot by swiping a special card.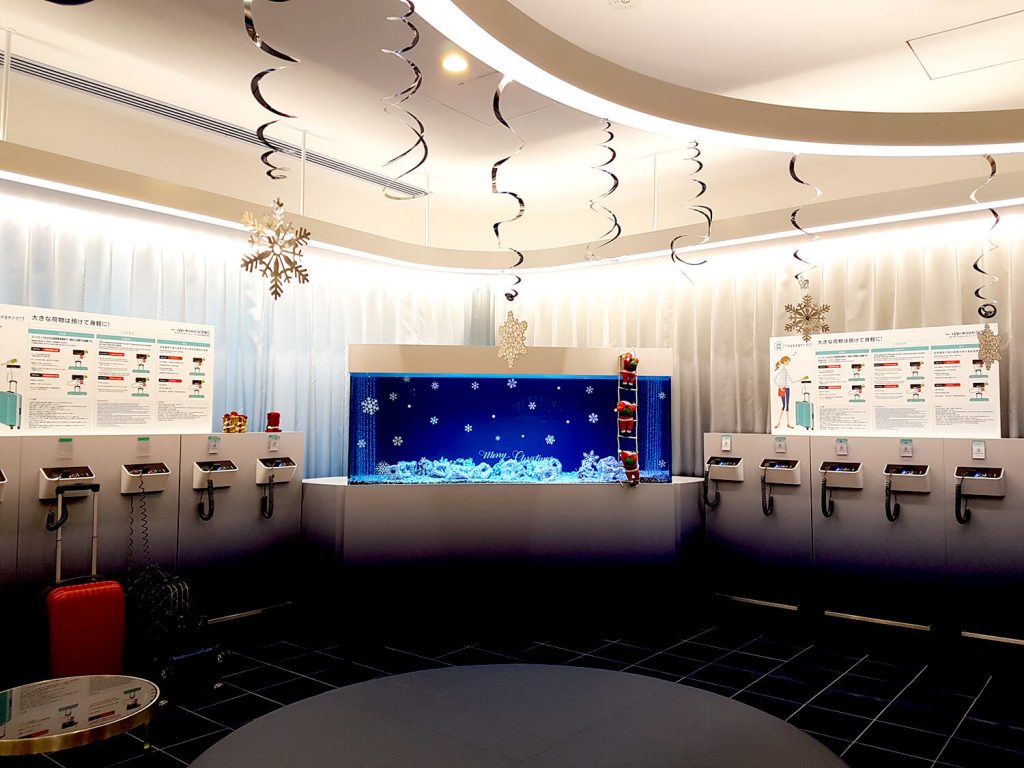 Portable mobile chargers are available for 300 yen a pop from a special vending machine located in the lobby. There are of course also standard vending machines with drinks and snacks. A side room offers coin laundry and dryers. So a traveller really can do everything they need at this hotel without speaking to another human being.
The room
Holding my freshly-issued room card, I made my way to the elevator to head to the fourth floor. The room itself was a small single room typical of a Japanese budget hotel, but nicely furnished. There was a TV, a safe, small fridge, kettle, one green tea bag, nightgown and basic amenities. The unit bathroom was very new and the black decor made it look all the more stylish.
In terms of special features, each room also came equipped with a Handy smartphone, which you can use during your stay to access the internet and make free calls. Also very cool was the addition of a Chromecast for streaming your device to the TV in the room.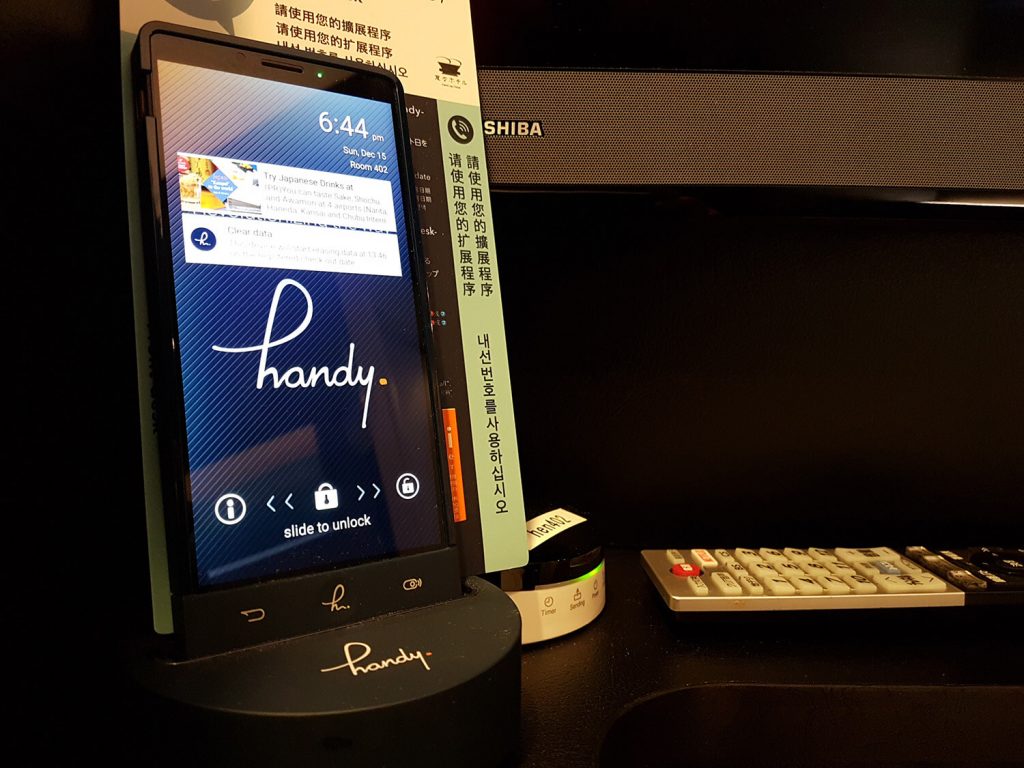 All rooms are non-smoking, although you can also book rooms where e-cigarettes (and only e-cigarettes) are allowed.
The check-out process
Check-out is 11am which is bliss for people who, like me, love sleeping in. As I left the hotel room the next morning, I saw housekeeping cleaning out some rooms further down the hall. So I guess the hotel still uses human staff for some jobs.
The check-out process itself is simple and takes less than a minute. There is a check-out machine in the lobby, and you simply deposit your room card into the slot and leave. One of the androids will bow a thanks and utter a parting greeting once you do. And you're done.
How to book
You can easily make bookings at any of the Henn Na Hotel chains on the official site, available in Japanese and English. The process is fairly straightforward. To get discounts off your booking, sign up as a member (free). Members can also earn 10x more points when paying by credit card (8x more if paying on arrival) whenever they stay at a Henn Na Hotel branch. These points can be exchanged for H.I.S. travel vouchers once you've accrued at least 1,000 points.
Henn Na Hotel: Final thoughts
Each Henn Na Hotel branch is slightly different, with different robots and features in their rooms. So it would definitely be interesting to stay at this chain again in a different location. For example, many branches have dinosaur robots as front desk staff, instead of humanoids. At the Asakusa Tawaramachi branch in Tokyo, they've forgone the robots entirely to have the world's first 3D hologram front desk staff.
While Handy smartphones and Chromecast are pretty much staples in every branch, other unique, technology-laden features offered in rooms at selected locations include:
LG Stylers, a slim closet that steam cleans and deodorizes the clothes you hang inside it
Futon conditioners, a mattress you can adjust the temperature of, so you always feel comfortable in bed
Samsung Gear VR headsets, for gamers and those who want to try virtual reality experiences
All in all, my first stay at a Henn Na Hotel branch was enjoyable and the bed more than comfortable, even without a "futon conditioner." I love the fully automated check-in/check-out experience and modern gadgets in the rooms. This hotel chain definitely gets my stamp of approval!