Updated: October 13, 2022
Nestled among the Northern Japanese Alps at an altitude of 2,060m, Happo Pond is one of those majestic natural sights that is picture perfect in any season. And hiking to it in the warmer months makes for a great day out.
The pond is located in Nagano Prefecture's Hakuba, a town famous as a mecca for ski lovers, and the host of the 1998 Winter Olympics. While the ski resort resembles a ghost town in summer, Hakuba also offers a range of activities for the "green season," including hiking, mountain biking and kayaking. Rather than snow, visitors can instead enjoy beautiful alpine plants and colours.
Going at the end of September meant that autumn colors were already starting to dye through the mountain landscape. The weather was also cloudy on the day I went, so it made for some great moody shots.
For those planning to make the trek themselves, here's what to expect.
The route to Happo Pond: At a glance
The tl;dr version of getting to Happo Pond from Tokyo. In summary, it'll take you at least 3 hours to get the village of Happo, and another 2 hours or so to make your way up the mountain to Happo Pond using a combination of lifts and hiking.
Read on for the specifics.
Getting to Happo from Tokyo
The closest public transport stop to Happo Pond is the Hakuba Happo Bus Terminal (白馬八方バスターミナル).
There are three main ways to reach the bus terminal from Tokyo, and each have their respective pros and cons.
Option
Cost (one way)
Time Required (approx.)
Notes
1. FASTEST – Take the Hokuriku Shinkansen to Nagano Station, then transfer to the local bus to Hakuba Happo Bus Terminal.
10,340 yen~
(6,170 yen~ with JR East discount*)
3 hours
(one transfer)
*For a limited time only, JR East is offering up to 50% discount on shinkansen tickets booked on their official website at least 20 days in advance.
2. CHEAPEST – Take the highway bus from Shinjuku Bus Terminal (or Ikebukuro Station) to Nagano Station, then transfer to the local bus to Hakuba Happo Bus Terminal
3,500 yen ~ 7,100 yen
5 hours
(one transfer)
Taking the bus on weekdays means you can sometimes score a ticket to Nagano for just 1,500 yen or 2,700 yen! Otherwise, prices can go up to 5,100 yen on weekends and holidays.
3. CONVENIENT – Take the direct express bus from Shinjuku Bus Terminal to Hakuba Happo Bus Terminal
4,300 yen~
5 hours
(no transfers)
The buses have toilets, plug outlets and Wi-Fi. It also stops at two service stations along the way.
For reference, because I was in no great hurry and wanted to save money, I chose option 2 to get there, and option 3 to return. The five hours went by in a breeze. You can book tickets online through the links above.
No bookings are necessary for the local bus from Nagano Station to Hakuba Happo Bus Terminal, which costs 2,000 yen. You can check the timetable here (Japanese only).
The ascent to Happoike Sanso Lodge
Getting from the bus terminal to Happo Pond requires three different mountain lifts and around 1.5 hours of hiking one way.
First, you will need to walk 10-15 minutes from the bus terminal to get to the first lift, Gondola Adam. An 8-minute ride in the gondola will take you to Usagidaira at an altitude of 1,400m, where you transfer to the Alpen Quad Lift.
This lift is open air and fairly close to the mountain side, so you can feel the high grass brush against the soles of your shoes as it climbs.
Since you are completely exposed to the wind, it can get a little chilly. so I recommend wearing a jacket if going in autumn. The journey takes 7-minutes to reach Kurobishidaira at an altitude of 1,680m, where you transfer to yet another chair lift.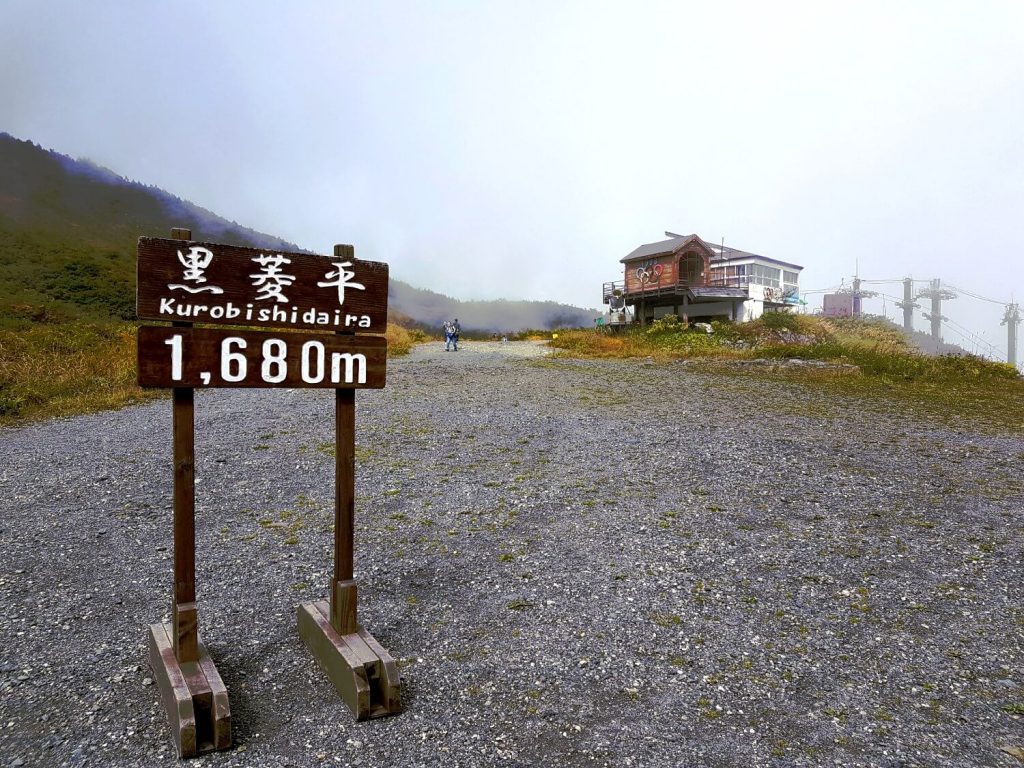 Oh, there's a hot spring lake here (soaking in it is not permitted).
Ride for another 5 minutes on the Grat Quad Lift and you will finally reach Cairn #1, aka the Happoike Sanso Lodge, at an altitude of 1,830m. From here your hike will begin! There is a toilet, cafe and small souvenir store here in case you want to grab anything before climbing.
Hiking to Happo Pond
In a word, breathtaking. And not just because of the at-times steep climb and high altitude. The hike offer gorgeous views throughout, with the diverse scenery periodically dressed in drifting clouds. Even though I went on a random weekday, there were still quite a lot of people there. Especially elderly climbers who were totally rocking it despite their age.
It takes around 1 to 1.5 hours to hike up to the pond from Happoike Sanso Lodge, depending on how fast you can climb. There are two main routes up and down, which converge at various points. I instinctively took the one with less people.
The first stretch of my climb was uphill and rocky, and definitely gave me a cardio workout. Apparently, there is another route up which is mostly wooden boardwalks. On your right, if the weather cooperates, you are treated to a spectacular view of the Japan Alps dusted with snow, and also 雲海 [unkai] (sea of clouds).
After scaling the rocks, things thankfully get easier. There are wooden plank steps which are incline gradually and no more exertive than taking stairs. Following that, you walk on a dirt path, which is mostly flat.
After about 45 minutes of hiking and another steep rocky part, you will reach Happo Cairn at 2,035m. From there it's only another 350m to Happo Pond. When the clouds clear, you can actually see it down a crest as you make your way towards it.
Happo Pond
This pond is most famous for reflecting the Hakuba Sanzan peaks on its surface like a mirror. On a clear summer's day, the startling blue sky contrasts with the lush green and white of the background. But in autumn, the scene is far more moody, with hues of yellow and red peeking out through drifting clouds.
Most climbers sat here to enjoy a meal or snack as they rested from their efforts. For some, their end goal was not the pond, so they proceeded to Karamatsudake at 2,696m.
The weather is temperamental up on mountains, so you may need to wait for clouds to clear or drift into position to get your perfect shot. You can see many faces of Happo Pond while waiting.
The descent
As you would expect, the descent is much faster, only taking around 45 mins. You can use the boardwalk or the rocky path to make your way back down to Happoike Sanso Lodge. Then do the reverse of two quad lifts and the gondola to get back to the village area of Happo.
The gondola and mountain lifts' operation times differ slightly depending on the season, but they tend to cease running by 5pm. So it pays to set out early to get maximum time on the mountain. Otherwise, plan your hike carefully to allow enough time to return.
The mascot of the Hakuba is this odd-looking character known as Victoire Cheval Blanc Murao III. That mouthful of a name means "white horse of victory" in French, which is apt since the kanji for Hakuba (白馬) also means "white horse." The kanji for Murao is 村男, which means "village boy." He can be found in souvenir stores throughout Hakuba, and even pops up in random spots from time to time.
Cost
If you are taking all the mountain lifts to get up and down the mountain (i.e. not driving any part of the way), the set ticket for 2,980 yen, which includes a round-trip ride on all of the three transport lifts, is the most value-for-money.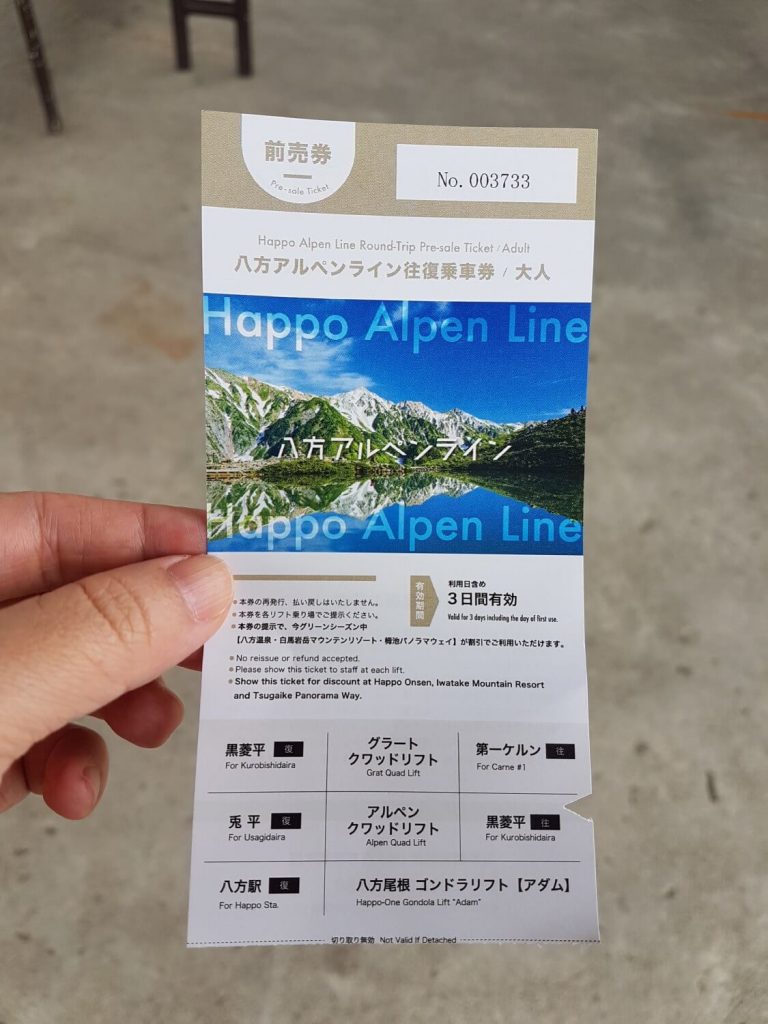 If you are staying overnight, your hotel may also offer a discounted pre-sale ticket. Using such a method, I was able to get the set ticket for 2,700 yen.
Hiking Happo Pond should be on the bucket list of any nature lover or photographer. It can be done by anyone with an average fitness level, and no special equipment is needed in the warmer months. With the Japanese government (via a domestic travel campaign) and JR East currently offering amazing discounts for travel as part of their post-pandemic strategy, now is the perfect chance to go.