Hotel R9 The Yard (ホテルアールナイン ザ・ヤード) a fresh "container hotel" chain based on the concept of staying in shipping containers. Located outdoors with no shared walls, this may be future of travel while social distancing.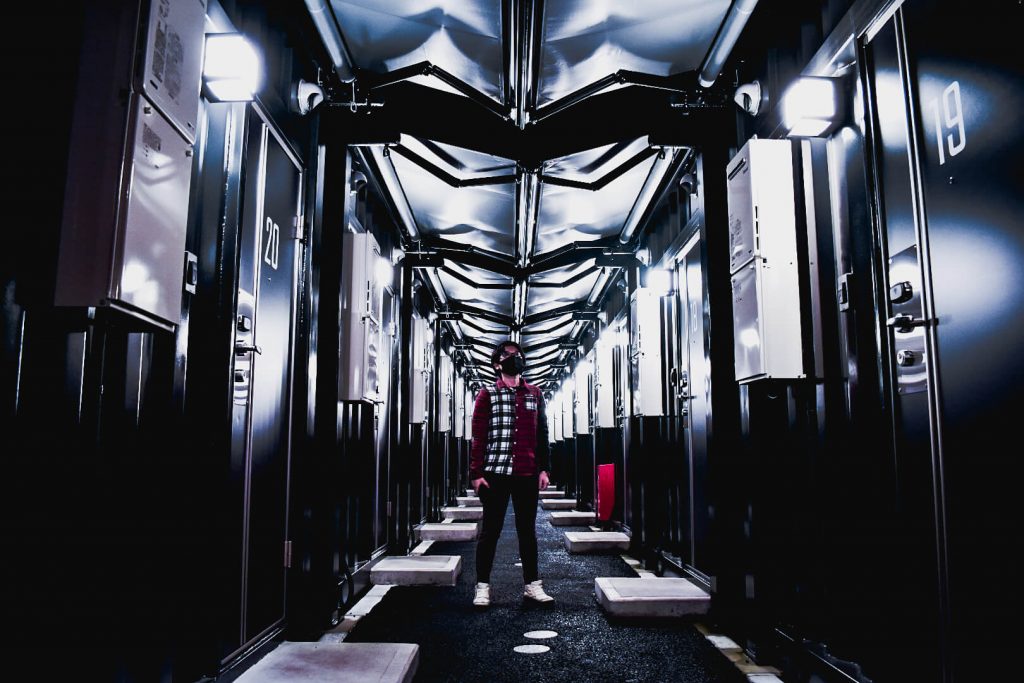 The first Hotel R9 The Yard opened near the Moka interchange, Tochigi Prefecture in December 2018. There are now 19 branches in operation, with the latest one having just opened in Isesaki, Gunma Prefecture on July 26, 2020.
So far, all the branches are located in the Kanto region, with the majority in Tochigi and Gunma prefectures. But there is also one west of Narita Airport for those on their way to Tokyo. So it seems the chain's operator, Develop Hotels & Resorts, has plans to expand depending on its success.
Given the sprawling nature of such setups, the hotels are located in smaller, countryside cities rather than main cities. Usually a fair walk from the nearest train station, most cater to those with their own transport.
I thought a container hotel would be the perfect idea to satisfy my wanderlust while adhering to social distancing practices. As for where to go, I wanted a non-touristy, sparsely-populated place that wasn't too hard to get to.
What better than the place voted by Japanese as the least attractive prefecture seven years in a row?
That's right, Ibaraki.
And so to Yuki, Ibaraki Prefecture we go
Yuki (結城) is a small countryside city located in Ibaraki Prefecture, near the border to Tochigi Prefecture. It has a population of around 50,000 and is fairly non-descript with no real tourist sites. Hoping to avoid crowds and travellers over the long weekend, that is exactly why I chose it.
Entrance into the city is provided via JR Yuki Station, located on the Mito Line. Coming from Tokyo, you will need to do an easy transfer at Oyama Station in Tochigi Prefecture to get there. The journey takes under 2 hours and costs around 1500 yen one way (not using the shinkansen).
Besides your standard shrines and temples, there's not much to do in Yuki, honestly. The city's claim to Instagrammic fame, if there is such a thing, is a quaint French cafe by the name of Cafe la Famille. Very popular among locals, I had to wait for 30 minutes before a table was available for lunch at 1:30pm.
It was definitely worth it as the galette was delicious and the staff, all who sported cute berets, very chill. I can definitely see the appeal of this gem of a restaurant tucked cosily in the Japanese suburbs. The ambience is like stepping into the French countryside.
I later rented a bicycle for 500 yen and rode past rice fields and bridges to Kinu Ryokuchi Park in the neighbouring Chikusei city. The terrain is very flat in general so it was relaxing. Just getting to cycle again, away from crowds, was great in itself.
Hotel R9 The Yard Yuki
Hotel R9 The Yard Yuki, which opened in January 2020, is so far the only container hotel from the chain in Ibaraki. Located an easy 15-20 minutes walk from JR Yuki Station, there is also lots of parking space for those who prefer to drive.
The hotel looks very cool from the outside, with its sleek red and black motif. You can't get to the any of the containers without walking past the lobby container, so safety is not an issue. (Plus, this is the Japanese countryside).
Check-in (from 3pm) is a fairly straight-forward process. I was given a standard form to fill in, plus, due to the current coronavirus pandemic, a check sheet asking about my physical condition. There was no temperature check enforced. Mask-wearing and hand sanitizing upon entry is standard.
After I had checked-in and paid, the front desk staff told me to pick an item from the freezer in the lobby for breakfast. The freezer contained three types of frozen onigiri (riceballs), and three types of frozen pasta. Not really breakfast food in my opinion, but free food is free food. I picked a tuna onigiri and a seafood pasta before heading to my container.
(I ended up eating the onigiri for a midnight snack and the pasta as part of my dinner the following day.)
There is also a container which houses vending machines and two coin washing machines/dryers, available to use from 6am to midnight.
The room/container
As you can see from the video below, the interior is just like your typical budget hotel in Japan. At only 13 sqm, it is compact but has all the basic amenities. There are generally two room types available: twin or double. The double comes with a massage chair and table, according to the official website. I only chose a twin room because it was slightly cheaper than a double for the days I picked.
There is a TV, fridge, kettle, free tea/coffee bags, hair dryer and most unusually, even a microwave. This is to heat up the frozen food you picked in the lobby. This is also an air humidifier in case you want to run the air-con at full blast.
The unit bathroom is equipped with all the necessary amenities — towels, shampoo, conditioner, soap, hand wash and toothbrush. And of course, the all important Japanese washlet toilet complete with a heated seat and bidet.
The WiFi connection was strong and worked well, so no problems there.
All in all, a very comfortable room and you would never suspect you were in a container just by looking at the inside.
The shipping container experience
A bunch of shipping containers plonked in the middle of a bitumen parking lot has as much insulation as you would expect; i.e., very little. The temperature was relatively mild for the two nights I stayed during rainy season, but I can imagine it'll be freezing in winter and pretty hot in the peak of summer.
Having said that, there is an air-con inside each container room so you needn't worry too much.
Noise-wise, there are no shared walls and the containers have a slight space between them, so when people are in their respective containers it's actually pretty quiet. I couldn't hear any TVs or flushing toilets or anything. I could hear the propane gas tank attached to the outside of my container kicking into gear whenever I ran hot water in the bathroom, though.
If people have their door open or are standing outside near your container, then the voices can be heard quite clearly. But I think this is the case even in a normal brick or wooden house. Structural noises seem to be avoidable though; for some reason vibrations through the floor could be felt despite the containers not being connected and sitting on bitumen.
My room was on the corner located next to the storage shed for the cleaners, so the first morning I was awoken by a ruckus that sounded like they were banging around on the other side of my wall. Which couldn't be the case since there is a small space between the containers. I guess sound just echoes off steel and easily seeps inside?
On the other hand, on the second night it rained and raindrops danced on steel roof in a melodic pitter-patter. So incredibly soothing and better than any white noise maker.
Costs and booking
A stay in any of the Hotel R9 The Yard container hotels is extremely reasonably priced, starting from 5,000 yen a night for single occupancy, and 7,000 yen a night for two people. Prices fluctuate depending on the season and day of the week, as with most hotels.
You can book directly on the official website (Japanese only) or on any of the major Japanese OTAs: Jalan, JTB, Rakuten, etc. If not using points and vouchers for those sites, the rates offered on the official site can be slightly cheaper. So make sure you do a quick comparison before booking.
Hotel R9 The Yard: Final thoughts
I've always wanted to try staying in a shipping container, and am glad I was able to cross it off my bucket list. I was satisfied with the experience, and love the cool vibe of the Hotel R9 The Yard chain.
The free food was a bonus, the surroundings very quiet, and all rooms are non-smoking and very clean.
However, I'm not sure if it was because of all the rain, but there was a slightly damp smell at times. It seemed to come from the bedsheets. Let me make it clear that the bedsheets themselves were not damp. Just sometimes I would catch a whiff of what reminded me of a wet dog. The containers do have small windows and the bathroom fan runs 24 hours (there's a plastic covering over the switch to prevent you from turning it off), so the rooms are decently ventilated in general.
In terms of cons, the hotels tend to be a fair walk from the station, and may not be so convenient for those with a lot of luggage. I'd say these places target backpackers or people who drive or bike. They are the perfect night stop for roadtrips.
Despite the rooms being self-contained (no pun intended), the occasional sensation of vibrations through the floor baffled me. Maybe some physics or acoustics expert can explain it.
Overall, I wouldn't hesitate to recommend the Hotel R9 The Yard chain if you're looking for a different, and largely peaceful, accommodation experience.
Looking for more unique and interesting stays? Check out my review of Henn Na Hotel Asakusabashi, a branch of the famous robot hotel chain.