When I was doing research for my visit to Kaiping in China, the outdated and sparse information available in English confused the heck out of me. It didn't help that there were so many diaolou, and that they were located all over the place. In the end, I had no choice but to turn to Chinese resources. After spending hours reading through Mafengwo guides, blogs from Hong Kong travellers, and local bus routes on government sites, I was finally able to stitch together a model course to see everything I wanted using only public transport. Hopefully you'll have an easier time planning your trip with this guide!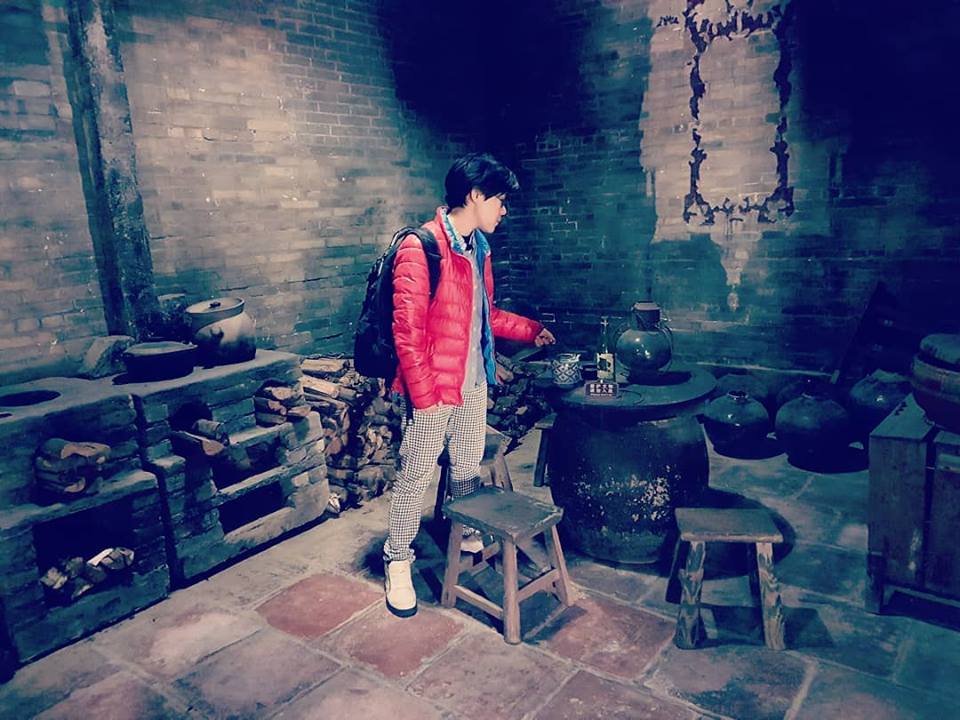 Background
Kaiping, pronounced in Cantonese as Hoiping, is a county-level city of around 700,000 people located west of the Pearl River Delta in Guangdong Province. It is the ancestral hometown of many overseas Chinese, part of the Siyi (Seiyap in Cantonese) region from which many people emigrated to Hong Kong, Southeast Asia, Australia, and the Americas in the late 19th century. Apparently more Kaipingnese people live abroad today than in Kaiping itself! My ancestors add to that statistic, so last month some family members and I journeyed to the land of our forefathers to see it for ourselves.
Getting to Kaiping
Kaiping takes around 2 hours from Guangzhou. The cheapest way to get there is by bus from Fangcun Bus Station (芳村汽车站), which is located a short walk across an overhead bridge from Exit B of Kengkou Metro Station (坑口站) on Line 1.
Head to the ticket counter to buy tickets. It should cost around 60 RMB + 2 RMB for insurance. Buses run quite frequently, but they don't necessarily come every hour. So plan carefully. We had to literally dash for the 10:45am bus after learning the next one would be at 12:30pm. Before leaving the terminal, the bus will stop by the gate and a policeman will board and scream at passengers to put on their seatbelts. He will alight just as promptly, without checking you actually do. After a relatively smooth 2 hour ride with passengers in various stages of nodding off, the bus will drop you off at Yici Bus Station (开平义祠汽车客运站).
There are also direct buses to and from Zhuhai taking around 2 – 2.5 hours depending on traffic. They drop you off right by Gongbei Port, making for easy passage to Macau and beyond. This is how we departed from the city.
You can also hire a driver or join a day tour from Guangzhou, but this will set you back at least USD$100 per person. In my opinion, if you speak enough Chinese to get around, you can easily do it yourself via public transport.
Kaiping's Main Attraction: The Diaolou
The Diaolou (碉樓) are multi-storey concrete watchtowers built by returning Chinese emigrants in the 1920s. They had two primary purposes: 1) to show off the prosperity of the owner; and 2) to act as night watchtowers. With their fortified entrances and ability to have each floor sealed off, diaolous were used to protect against potential intruders during a dangerous warlord era.
Although there are hundreds of diaolou scattered around Kaiping, there are four main villages that are officially part of the Kaiping Diaolou and Villages (开平碉楼与村落) UNESCO World Heritage Site. Namely: Zilicun (自力村), Majianglong village cluster (马降龙村落群), Jinjiangli (锦江里), and Sanmenli (三门里). I find it perplexing that Li Garden (立园) is not on that list, despite it being heavily promoted by Kaiping city. Conversely, there is virtually no promotion of Sanmenli in the city, although it boasts the oldest diaolou and is actually on the UNESCO list. Go figure. In any case, I'll cover all of them in a bit more detail below.
Zili Village (自力村)
The largest of the UNESCO diaolou villages, Zili features watchtowers peppered around a idyllic landscape of rice fields and lotus ponds. The village incorporates various Western architectural styles, with the Fang Clan Watch Tower handpicked for attention. You can climb to the roof of some watchtowers to get a birds-eye view of the area. In recent years, Zili Village has garnered fame for being the filming location of Let the Bullets Fly (让子弹飞), once China's highest grossing domestic film. The lead actor, Hong Kong-born Chow Yun-fat, is said to have ancestral roots in Kaiping.
Opening hours: 8:40 – 17:25
Li Garden (立园)
Constructed in 1936 by Mr. Xie Weili, a Chinese emigrant to the United States, this spacious garden features a number of shorter diaolou you can enter. Each diaolou belonged to a different family, and inside you can see the furniture and rooms as they were in the past. It is considered the best preserved and renovated of all the villages.
Opening hours: 8:30 – 17:30
Majianglong (马降龙)
A scenic diaolou cluster located in a bamboo forest, and another filming location for Let the Bullets Fly. It is surrounded by mountains at the back, and the Tanjiang River in the front.
Opening hours: 8:50 – 17:15
Jinjiangli (锦江里)
This village features the tallest diaolou in Kaiping: Ruishi Lou. Nine-storeys high, it boasts a markedly European-influenced architecture, including a Byzantine-style roof and a Roman dome. The two other prominent diaolou in this village are Shengfeng Lou and Jinjiang Lou.
Opening hours: 9:00 – 17:00
South Diaolou (南楼)
Located on the riverbank of Chikan township, the Nanlou is a defensive diaolou. The Situ Clan fought against a Japanese invasion atop it for 7 days, defeated only when the invaders fired poison gas.
Opening hours: 8:30 – 17:30
Sanmenli (三门里)
To the northeast of Chikan lies Sanmenli, a UNESCO-designated village whose claim to fame is Yinglonglou (迎龙楼). The oldest remaining diaolou in Kaiping, this three-storey fortress was built by the Guan family during the Ming Dynasty (1522-1566).
Chikan Old Town (赤坎古镇)
Living in Japan for years now, the romanisation of this town makes me want to crack up everytime. Fortunately, the Chinese meaning is not even remotely related. Chikan, made up of the characters red and pit, was historically the administrative center of Kaiping, and prospered as one of the largest market towns in South China in the 1930s. Until a few years ago, it was a picturesque old town on the banks of the Tan River, and the site of a movie studio. Now, it is literally a hole. (At least, temporarily).
As of mid-2018, the town has been deserted. The government plans to renovate all the historic homes over at least five years. We discovered this the hard way – after boarding bus #616 and paying the fare, and only after paying the fare, did the driver inform us that the place was closed off. Since we were on the bus already, we rode the 40 minutes there and alighted to find scaffolding, barricades and half-demolished buildings amidst dust, dust and dust.
Still, it provided for some interesting photo opportunities, so it wasn't a complete loss. Especially since I do have a bit of a haikyo explorer streak in me.
Tip: If you only have time to see a few sights, the general consensus is that you should aim for Zili Village, Li Garden, and Majianglong. Note that most of the diaolou close around 5pm, with last entry half an hour before.
Cost of Visiting the Diaolou
Entry for the sites are a little pricey, but if visiting more than one diaolou, you can get discounts by buying one of the ticket sets. Seniors (over 60) can also get half price entry upon presentation of ID (your passport should suffice).
Here's a quick guide on the cost of visiting each:
| | | | | |
| --- | --- | --- | --- | --- |
| Diaolou Village | Bus | Entrance Fee | 通票 Set | 套票 Set |
| 自力村 Zilicun | 617 | 78 RMB | ✔ | ✔ |
| 立园 Liyuan | 617 | 100 RMB | ✔ | ✔ |
| 马降龙 Majianglong | 613 | 60 RMB | ✔ | |
| 锦江里 Jinjiangli | 613 | 50 RMB | ✔ | |
| 南楼 The South Diaolou | 606 | 4 RMB | ✔ | |
| 三门里 Sanmenli | 613, 616 | | | |
Set tickets
1 通票(180 RMB) includes 5 spots and is valid for 2 days
2 套票 (150 RMB) includes 2 spots and is valid for 2 days
Those who purchase one of the ticket sets can use the free shuttle bus (接驳车), which runs the route Zilicun to Li Garden to Majianglong (and in the opposite direction) seven times daily. Here is the timetable (as of Jan 2019):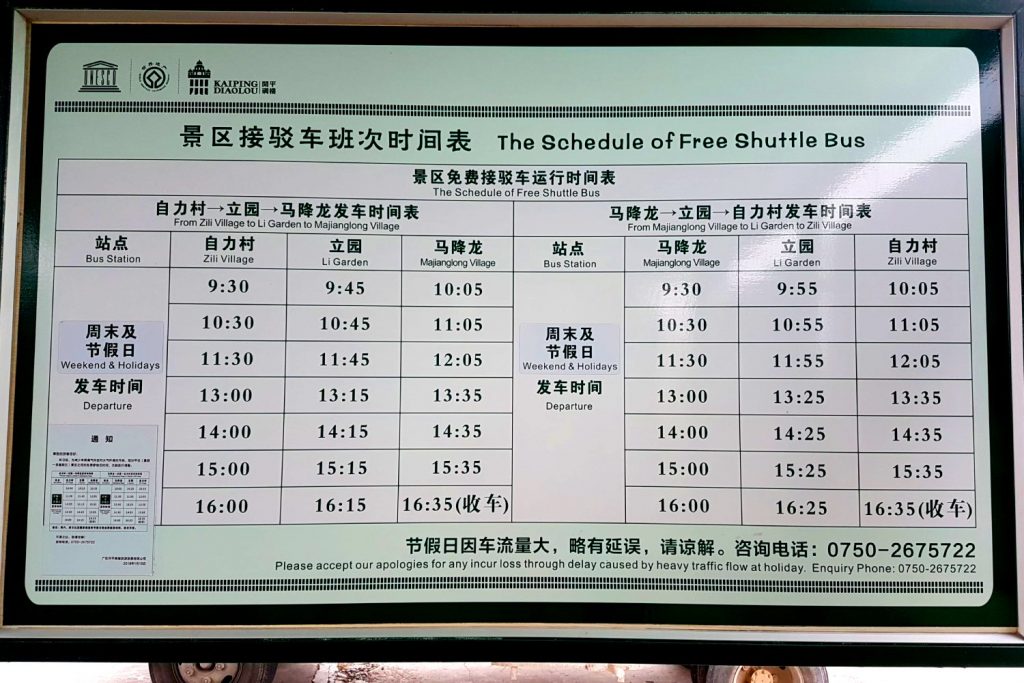 You can reach almost all the sites above using public transport, if you plan carefully and can read Chinese. Bus fares range from 4 RMB ~ 7 RMB depending on how far you travel. However, be warned that the walk from the bus stop on the main road to the ticketed entrance can be quite a distance (up to 1km). Given the large spread of the diaolou and the time it takes to explore each, it's pretty much impossible to do them all in 1 day. For a more relaxed trip, I recommend allocating 2 full days if you do purchase the all-in-one 5 diaolou ticket set.
Model Course
If you only have 1 day to explore, I recommend seeing the three core sights using the free shuttle bus. A good route would be:
Kaiping Yici Bus Station —[Bus 617, 45 mins] —> Zili Village —[Free shuttle bus, 10 mins]—>Li Garden—[Free shuttle bus, 25 mins]—> Majianglong —[613, 45 mins]—> Kaiping Yici Bus Station
If you have 2 days to explore, you can hit up the other diaolous (Jinjangli, Nanlou) included in the all-in-one ticket, or even Sanmenli. I also recommend visiting Chikan Old Town once the renovations are finished. This will probably be another 5 years, so not anytime soon.
Where to Stay in Kaiping
The best base for exploring the diaolous is Yici Bus Station (also known as Kaiping Passenger Station). This dusty, dimly-lit bus station is also where the long-distance buses to Guangzhou, Zhuhai and other cities depart/arrive, so I recommend staying around here. The diaolous are located around 30-45 minutes away by local bus. Confusingly, there is another bus station in Changsha (not to be confused with the capital of Hunan Province) which uses the name Kaiping Bus Station. However, none of the buses go to the diaolou from here, and the station you want is referenced as Yici on bus routes anyway.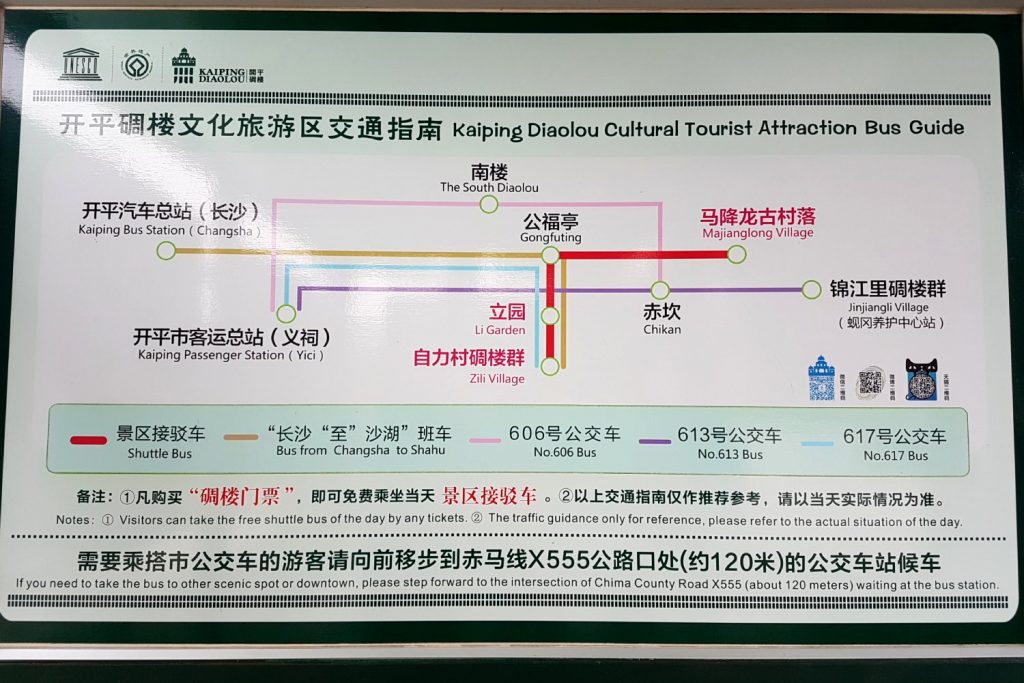 The 5-star Pantower International Hotel, located on some sort of island on the river, appears to be the most upscale hotel in the city. Unfortunately, that's not really convenient for accessing the aforementioned bus station, which is located 4km away. So unless you have a car/driver, seriously save yourself the trouble and stay somewhere near Yici Road.
We stayed at a 2-star business hotel called Chengzi Hotel (江门开平橙子酒店), which was 5 minutes walk from Yici Bus Station and decently clean. You can read my review on TripAdvisor here.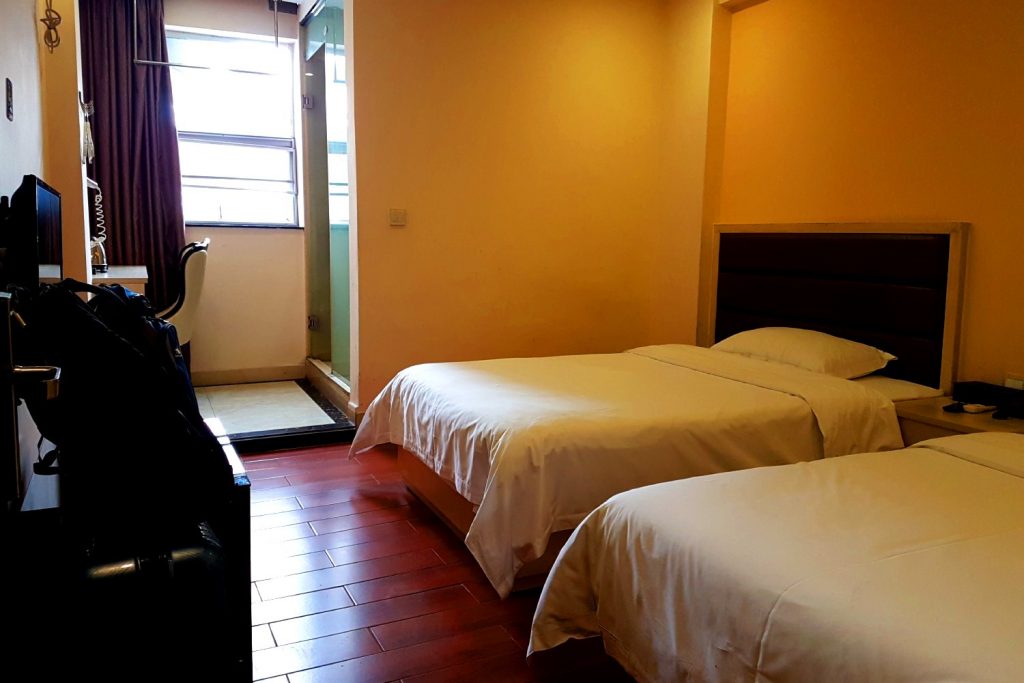 You'll struggle to find many choices on English booking sites, so I recommend utilising your Chinese skills and using Ctrip.com. However, do check with the hotel that they accept foreigners first.
Lastly, you definitely don't want to stay near the diaolous themselves, if there are even hotels nearby. Literally in the middle of nowhere and completely dead in the dark night.
Final Thoughts
As an ABC, it was interesting to visit my so-called "roots". I had been to Guangzhou multiple times before, but never to Kaiping, which is a little out of the way. Even if I knew no one there and struggled to understand their dialect of Cantonese, people in general were very nice and tolerant of our obvious outsiderness (face masks and backpacks). Given the large population of Chinese who emigrated from there, I'm sure they are somewhat used to seeing 华裔 [huayi] in search of their roots. The diaolou are worth visting at least once — fascinating structures that provide a glimpse into the life of the past. And the wide open spaces make it a pleasant place to escape the mad rush of Asia. It's a shame Chikan is now closed for renovations; it would have been a really nice old town to explore too.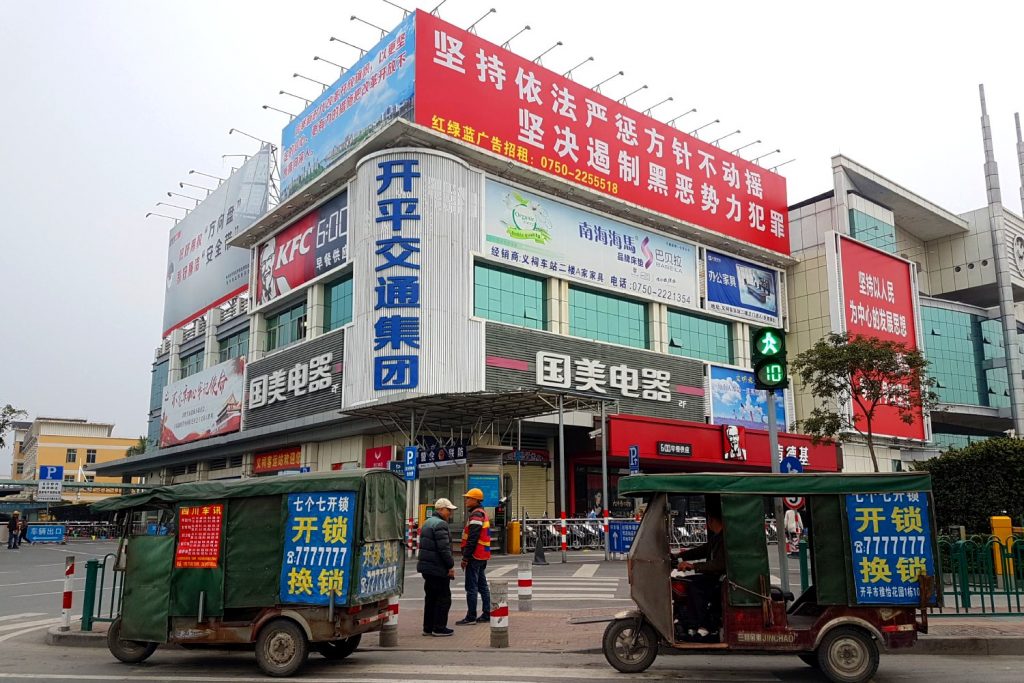 Kaiping city itself is a dusty affair with the typical Chinese haze. To be honest, it's nothing special and borderline ugly. Around the bus station are touts trying to get you to take their taxi or tuk-tuks. I was impressed with the electric buses though, which you can see charging at the station. Very progressive for such a small city. While wandering around our hotel in the evening in search of food, we stumbled across a fruit market. There is also a Kaiping Tourist Street near the river, but we didn't get a chance to venture that far.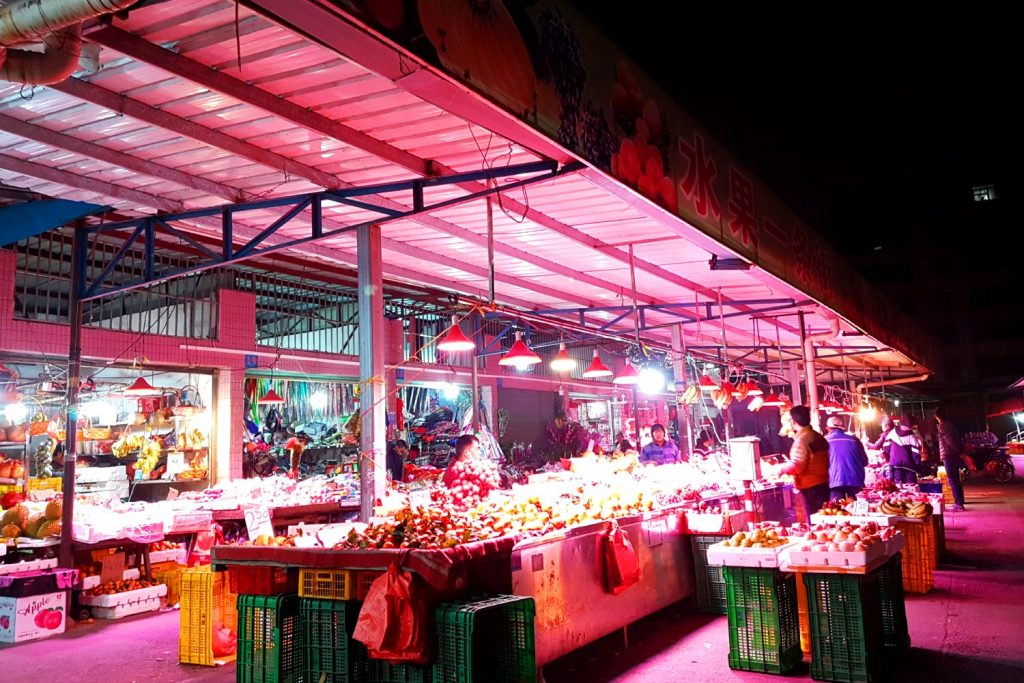 The most modern looking place was some 5km from Yici, a multi-storey shopping centre called Easco City, which we passed on the way back from the diaolou. We subsequently dropped by the next day for a quick lunch, and found it relatively empty. Expensive Hong Kong jewellery brands like Chow Tai Fook and Luk Fook filled the ground floor, while the upper floors housed a IMAX cinema and restaurants. There was also a McDonald's.
It's worth nothing that with the exception of the slightly-touristy diaolou, there is virtually zero English support around the city. So if you don't speak Mandarin or Cantonese, I recommend you bring someone who does!
If you enjoyed this article about Kaiping, read more about my time in China, which is always a wild ride with off-the-wall interactions.