How strong do you like your green tea? Nanaya Gelato boasts the world's strongest matcha (powdered green tea) flavour with its ice cream range featuring 7 levels of matcha intensity. Its operator is Marushichi Seicha Co. Ltd, a Shizuoka tea company dedicated to creating the highest quality matcha since 1988.
Describing just how intense their matcha is, on the official website they state (translated to English):
"The matcha strength of the bestselling premium ice cream brands is around the same as the level 1 of our company. Our level 2 is twice that intensity. The higher the level, the stronger it gets. Even in the world of gelato, the maximum intensity is around level 5. We were told it wasn't possible to get it stronger than that. We pushed the boundaries to get level 6, and even more to get level 7, which is seven times the intensity of normal flavours."


— Nanaya Matcha Official Website
Now that spring is here and summer is just around the corner, there's no excuse not to try the world's most intense matcha ice cream.
Just how does Nanaya achieve that intensity?
The quality of the matcha itself appears to be the most important factor. The matcha used in Nanaya's ice cream is all sourced from the mountains in the north of Shizuoka's Fujieda City. Care is taken to ensure that the tea is grown in soil with the perfect mineral balance, and harvested while maintaining its ideal state.
Most matcha ice cream is made from Uji matcha, which is the most famous in Japan. However, it seems tea leaves are not always exclusively sourced from Uji in Kyoto. At times, tea from the mountains in the north of Kyoto, as well as neighbouring prefectures like Mie, Shiga and Nara are also used, causing inconsistencies in the quality of the matcha ice cream.
The stronger the flavour, the more crucial the quality of the matcha becomes. If even a minute quantity of low grade matcha enters the mix, bitterness will ruin the entire flavour. The quality of the ingredients is easily distinguishable as the intensity grows.
Next to Nanaya's homemade gelato factory in Shizuoka is a full-scale stone-ground milling matcha factory. Matcha is freshly-ground there everyday and sent to the gelato factory for processing immediately. The aroma is trapped within invisible tiny air bubbles in the ice cream, and delivered straight to your mouth.
Nanaya Matcha Ice Cream Intensity Levels
Level 1: Equivalent to the rich type matcha sold commercially
Level 2: Authentic matcha flavour with a slight aroma
Level 3: The regular matcha flavour sold at Nanaya
Level 4: A mature flavour with the slight bitterness of matcha
Level 5: A full matcha hit
Level 6: Time to get amazed. You won't believe how much matcha flavour is packed in
Level 7: The world's most intense matcha ice cream
Taste Test: Level 1 vs Level 7
Being a matcha lover, I knew I had to try out this acclaimed "world's most intense" matcha ice cream for myself. We headed to Suzukien in Asakusa, which is located on a quiet street behind the bustle of Sensoji Temple. Despite its discreet external appearance, locals and foreigners alike crowded the inside, once again demonstrating the power of word of mouth and the internet.
We ordered a level 1 and level 7 matcha ice cream. While level 1~6 and other ice cream flavours like hoji (roasted green tea) and milk are 390 yen for a single cone (370 yen for a cup), the premium level 7 matcha costs 580 yen (560 yen for a cup). Double scoop of premium level 7 + one other flavour costs 680 yen for a cone (650 yen for a cup).
The stronger the matcha flavour the deeper the green. Here's level 1 and level 7 next to each other.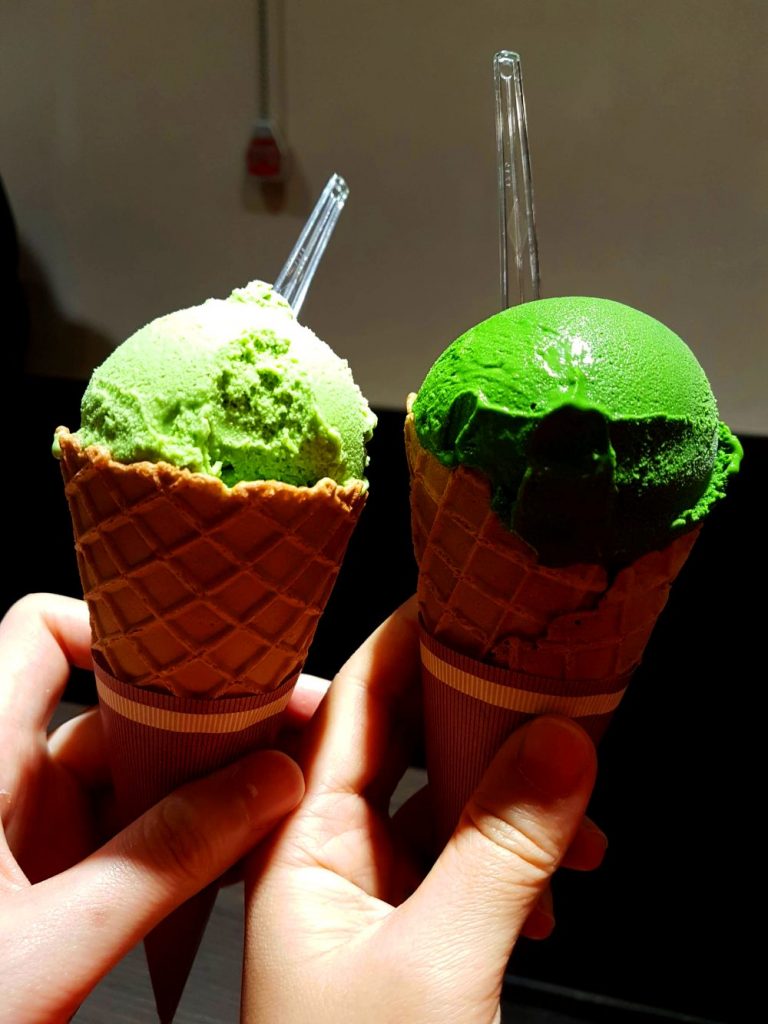 Level 1 tasted like the ordinary matcha ice cream you get, but the quality is obvious. A rich and gentle flavour fills your mouth like an elegant embrace.
As for level 7, first off the colour was darker than any matcha ice cream I've ever had in my life. It was a luxurious deep green akin to wakame seaweed or Sailor Neptune's hair. I took a cautious lick expecting bitterness, but was pleasantly surprised. The matcha flavour definitely hits you — it reminded me of the broth-like matcha served during a tea ceremony, except with a slight milky edge. However, the bitterness is quite mild given the intensity of the flavour, and it was only after I took a spoonful of level 1 that I realised how much sweeter normal matcha ice cream is.
I had no trouble finishing off the entire cone, and washing it down with the free small cup of tea we got with our gelato purchase. Rest assured a visit to Suzukien will give you all your green tea intake for the day!
Nanaya Matcha Ice Cream Stores in Tokyo
The original sweets factory is in Fujieda, Shizuoka Prefecture, but there are two stores in Tokyo where you can enjoy this intense matcha experience for yourself.
Nanaya Aoyama Cafe
〒150-0002 東京都渋谷区渋谷2-7-12
2-7-12 Shibuya, Shibuya-ku, Tōkyō-to 150-0002
Business hours: 11am – 7pm. Closed Tuesdays, unless it is a public holiday.
Suzukien x Nanaya Collaboration Shop (Asakusa)
Suzukien is actually a store selling tea and related goods, so there's not actually anywhere to sit inside. Instead, you crowd around a table at the back of the store to eat your ice cream. Or you can just take it to go and wander around to Sensoji. What they definitely do not want you to do is loiter around outside the store eating.
〒111-0032 東京都台東区浅草3-4-3
3-4-3 Asakusa, Taitō-ku, Tōkyō-to 111-0032
Business hours: 10am – 5pm everyday. Closed on the third Wednesday of every month.
While I am not exactly a foodie, I do love my ice cream. I also make sure to try local delicacies when travelling, so check out more of my reviews and write-ups.