Let me preface this post by saying that every Filipino person I talked to about visiting Manila scrunched up their face and advised me to visit the islands instead. But as it was the only viable option in the Republika ng Pilipinas for a layover en route Japan to Australia, I went for it. It happened to be my first time in the country, and here's what I learnt, ate and did.
Observations from my 40 hours in Manila
Traffic can be bad at certain times of the day, but surprisingly cars usually stop and let you cross the road. Unlike some SE Asian cities (looking at you Hanoi -_-).
Customer service was generally bland, with people rarely smiling. Given how friendly all Filipinos I have met abroad are, this surprised me. Maybe a lot of Filipinos just have RBF, or what I perceive as a displeased expression? Masks didn't help either.
That said, locals are helpful and polite, even going out of the way to apologize to you when they bump into you on the street.
There is no free working Wi-Fi anywhere in public spaces, if you don't have a Philippines phone number to register with. Not even at the airport.
People do things very slowly here, making any sort of process inefficient af. I wasted so much time at Manila Airport queuing at every stage (bag drop, immigration, security, boarding, takeoff). Even getting change after paying at a restaurant took a whole 5 minutes.
Cebu Pacific is one of the worst LCCs I have flown with. It would probably be at the bottom if the fiasco with AirAsia hadn't happened. Flight departed late, cabin crew were largely indifferent to passengers and for some reason wouldn't let me use the toilet even though it was an hour to landing. Luggage also took around an hour to come out on the belt at Manila Airport, ridiculous.
What I did in my day (and a half) in Manila
To be honest, there aren't that many tourist sites in Manila, which may explain the reaction from my Filipino friends. It is mostly just another chaotic Southeast Asian city in the midst of development. But some interesting spots I hit up were:
Intramuros
A historic walled city that dates back to the Spanish occupation, it is the number one tourist spot in Manila. There are a number of structures inside to explore, including:
Fort Santiago – Intramuros' citadel back in the day where you can join dungeon tours.
San Agustin Church – the oldest stone church in the Philippines.
Manila Cathedral – another church.
Casa Manila – fully-furnished home-turned-museum. Most notable are the toilets.
Baluarte De San Diego – drowning chamber during the Spanish era.
Some sites require entry fees.
Closest station: LRT 1 Central Station.
Rizal Park
Located next to Intramuros, this historical urban park is one of largest in Manila at around 60-hectares. Also known as Luneta Park, it features a bronze monument of Dr. Jose Rizal, a national hero of the Philippines. Various museums are also located within the park for those who want to learn more about the history of the country.
Closest station: LRT 1 Central Station.
Binondo Chinatown
From Intramuros, you can cross Jones' Bridge to reach the oldest Chinatown in the world. Known as 岷倫洛 in Chinese, it was established in 1594 and allegedly already a hub of Chinese commerce even before the Spanish colonial period. The main thing to do here is eat, or gawk at the intense electrical wiring.
Ongpin Street (王彬街) is where it's at if you are after a gastronomic experience. Here you can take your pick of various Chinese restaurants, tea houses and hawker-style stalls. After walking for hours, I feasted on the famed Sincerity Chicken, which was actually pretty freakin' good.
Closest station: LRT 1 Carriedo Station.
SM Mall of Asia
A sprawling multistory shopping mall with a gigantic bling globe, located on reclaimed land within Manila Bay. There is also a (non-literal) sea of casino resorts in the surrounding area. Not much else to be said, if you like to shop till you drop, this is a good place to visit. For me, I mostly just scouted the food court so I could eat some lechon.
Apparently, the mall offers a good view of the famed Manila sunset, but I could not find any windows or an observation floor, so I saw nothing. Plus it had poured with rain (and sufficiently drenched me) earlier in the day.
Closest station: MRT 3 Taft Avenue Station (not walking distance, you will still need to take a jeepney/taxi from there).
Antidote rooftop bar
Located on the rooftop of I'M Hotel in Makati, this self-proclaimed gastropub offers sweeping views of the skyscraper district of Manila. One fine days, you can even watch the city's reputed sunset while enjoying bespoke cocktails and tapas. I admit I was most drawn to establishment's jellyfish tank and dazzling neon lights, and purposely booked a hotel across the road so I could easily visit. As there are no observation towers in Manila, I wanted to use it to get some night views of the skyline.
I had planned to just order a drink and get some snaps before calling it a night. I was told upon entry, however, that there was a minimum spend of 1,000 PHP. So I ended up ordering three drinks and a bowl of truffle fries to reach the quota.
Given I had just eaten lechon and was not very hungry, I burned two hours there slowly consuming my order as I took in the atmosphere. But the staff were all very friendly and obliging in helping me take photos.
Closest station: MRT 3 Buendia Station (20-minute walk).
P. Burgos Street (red light district)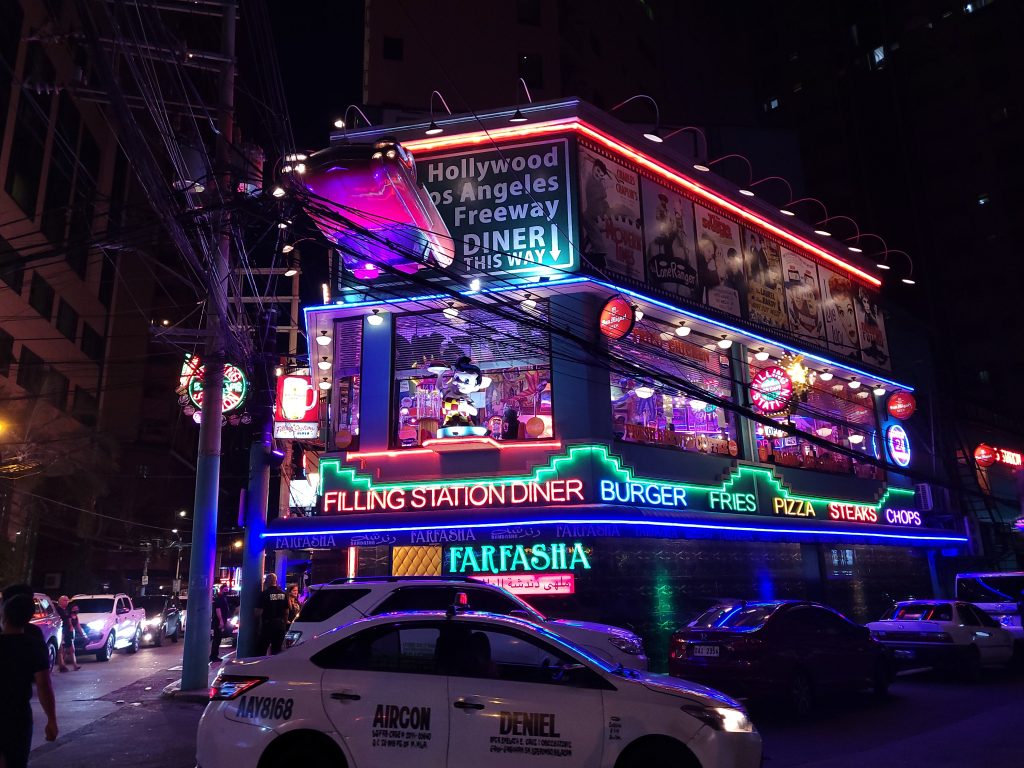 Just a few streets away from I'M Hotel is the red light district on P. Burgos. A small stretch flanked on both sides by brightly-lit clubs, bars and girls on the sidewalk, it has all the trappings of a Southeast Asian sin city. (But it doesn't hold a candle to the Walking Street in Pattaya, Thailand).
This was my last stop for the day, and given it was past midnight on a Friday by the time I finished at Antidote, it was quite alive. While I had a field day taking shots of neon signage, the seedy atmosphere made me uncomfortable. So I made one roundtrip of the street and left. Plus I was absolutely knackered from a full day of sightseeing and navigating.
Closest station: MRT 3 Buendia Station (20-minute walk).
Jollibee
No trip to the Philippines would be complete without eating Jollibee. I went to a branch in Makati close by my hotel, but this fast food joint is pretty much ubiquitous in Manila. I ordered the standard fried chicken and spaghetti, with an iced tea.
To be honest, I felt underwhelmed. While the chicken and accompanying gravy was pretty good, the food seems to be geared towards children's palates. As someone who usually drinks tea straight, the ice tea had far too much sugar for my liking, and the spaghetti was strangely sweet too. Still glad I was able to try it, but I definitely won't be craving it.
Closest station: Everywhere in Manila.
Ayala Triangle Gardens
Before heading to the airport, I had a quick walk to this nice garden in the middle of Manila's skyscraper district. True to its name, this park is triangle-shaped and offers a calming respite from the bustling city. It is also located close by the shopping oasis known as Greenbelt.
Closest station: MRT 3 Ayala Station (18-minute walk).
Getting around Manila
Ninoy Aquino International Airport –> Metro Manila
Manila has a developing metro system, with a few lines already operational. Unfortunately, as of January 2023, the extension to the airport is not yet complete. So to get into the city you have the options of:
Taking the UBE airport bus if you are staying at hotels near the drop-off/pick-up spots, and arrive during its operating hours.
Booking a Grab.
Taking a taxi. Yellow taxis are generally "safer" than white ones as they go by the meter. But if you are confident in your haggling skills, by all means, take the white taxis.
Since I arrived at like 1am in the morning, I decided to just take a yellow taxi to my hotel in Makati. It ended up costing 380 PHP, which was pretty on point based on my prior research.
Once in the heart of the city, you can easily get around using trains, buses and, if feeling brave, jeepneys.
Public transport system
Metro Manila's rail infrastructure is made up of the Light Rail Transit System (LRT), Metro Rail Transit System (MRT) and the Philippine National Railways (PNR) Commuter Line. When I was there, the PNR (orange), LRT lines 1 (green) and 2 (blue), as well as the MRT line 3 (yellow), were operational, although extension lines were still under construction.
Manila also has a rather extensive bus network, including the EDSA Carousel, a line part of the bus rapid transit (BRT) system.
The trains, however, were sufficient for the most part for me to reach my main points of interest. Ticket prices vary depending on the distance but generally cost between 15 PHP to 30 PHP. If staying for some time, you can also buy an IC card called BEEP to simplify things.
Many people still seem unused to the metro system, with two locals in the space of 12 hours asking me how to buy tickets to use it. Even though it was also the first time I had looked at the machine.
As for the stations, don't expect anything too fancy. They are mostly open air and not underground.
Jeepneys
One place on the list currently not well connected to the rail system is the Mall of Asia. As such, I had to take a taxi to get there. I walked to a hotel near Rizal Park and asked the security guard to help me flag down a taxi. It was a white taxi, and the traffic was extremely bad that day, so the driver refused to go by the meter. We haggled until agreeing on a price of 400 PHP. He was a nice fellow, and he told me a lot about Manila during the drive.
On the way back I decided to try a jeepney. The experience was very authentic as I found myself crammed into between the other passengers with the back door wide open. As I had sat near the front, I also had to help pass money to the lady who was collecting the fare beside the driver. She proved to be very nice, though, telling me when it was my stop to get off.
It cost me only 12 PHP to get from MoA to the closest metro station: Taft Avenue.
Rounding up, what was the favourite thing I did?
Given my love for the cyberpunk aesthetic, I really enjoyed the vibe and night view of the Antidote rooftop bar. Other than that, I would have to say the jeepney ride.