The sprawling metropolis of Tokyo is a sight to behold from above. With countless skyscrapers and towering structures, there's no shortage of contenders for the best views of Tokyo. The city looks magical at night, when millions of lights twinkle in the tiny landscape below. But panoramas on a fine day, when you can see all the way past Tokyo Bay and even to Mt. Fuji, are also breathtaking. And then there's the cinematic golden hour and blue hour.
Whatever your fancy, the five landmarks below will give some of the best views of Tokyo, and one to remember. So whip out your DSLR (or smartphone camera), get on that elevator and prepare to be wowed!
Tokyo Tower
An orange-red structure of steel standing amidst a sea of concrete, Tokyo Tower stands at 333 meters — 13 meters taller than its inspiration the Eiffel Tower. A national icon, it was the country's tallest structure for more than 50 years, until it was knocked off its proverbial shelf by Tokyo Skytree in 2012.
Located in a relatively central part of the capital, the tower commands a fine view of the megacity, and an ultra-romantic night view. If you do go at night, be prepared to be surrounded by countless couples. There are two observation decks, both paid. The main deck at 150m costs 1,200 yen per adult, while tours including the main deck and the top deck at 250m cost 3,000 yen (2,800 yen if tickets are purchased in advance).
You can see out towards Tokyo Bay with little difficulty even on the main deck, and on an especially fine day, you may even spy Mt. Fuji from the top deck.
Opening hours: Main deck 9:00 – 23:00 (Last admission 22:30)
Top deck tour 9:00 – 22:45 (Last tour 22:00 – 22:15)
Official website: https://www.tokyotower.co.jp/en.html
Tokyo Skytree
Scraping the sky at 634 meters to become Tokyo's tallest structure, the Skytree is almost double the height of the former holder of the title. Located in Sumida Ward in the east side of the capital, it offers a spectacular view from a different vantage point to Tokyo Tower.
There are two observation decks: the Tembo Deck at 350m, which features 5-meter glass walls for a panoramic view, and the Tembo Galleria at 450m, which "will leave you convinced you that you are walking in the sky," according to the official website.
Ticket prices differ depending on whether you visit on a weekday or weekend/holiday. On weekdays, a single ticket to the observation deck at 350m costs 2,100 yen and a combo ticket 3,100 yen. On weekends/holidays the ticket prices become 2,300 yen and 3,400 yen respectively.
International visitors also have the option of a "Fast Skytree Ticket," which provides express entry and is a fixed price regardless of what day you visit. A single ticket to the observation deck at 350m costs 3,200 yen, while a combo ticket will set you back 4,200 yen.
Opening hours: 8:00 – 22:00 (Last admission 21:00)
Official website: http://www.tokyo-skytree.jp/en/ticket/
Tokyo Government Metropolitan Building
We're almost done with high-rise structures prefixed by "Tokyo," I promise. The Tokyo Metropolitan Government Building, known commonly in Japanese as 東京都庁 (Tokyo Tocho), is the City Hall of the capital. Its distinct shape of two towers linked by a sky bridge makes it fairly iconic, and you can find a range of souvenirs sporting the silhouette in the gift shop on the observation decks. The general public can get a 202m high view over Tokyo from both the south and north towers. Best of all, it's completely free of charge.
To access either observation decks, you will need to take the Observatory Elevator from the 1st Floor of Main Building No. 1.
How's the view? See photo. Pretty good for a free observation deck. During the day, it's as good as any paid observatory, although the location doesn't give you as central a view as Tokyo Tower or Roppongi Hills. I do have one gripe if going at night: they need to dim or switch off the lights inside the deck. The reflection against the glass makes it near impossible to see outside unless you press right up to it, which is difficult to do if crowded. You're probably going to need a DSLR to get any decent shots, but tripods are generally not allowed. The deck also has a souvenir/toy store and a cafe bar, so you can sit and enjoy the view.
Opening hours: North Observation Deck 9:30 – 23:00
South Observation Deck 9:30 – 17:30
(23:00 on days when the North Observation Deck is closed)
* Both decks are closed certain days each month, so check the official website for details.
Official website: https://www.metro.tokyo.lg.jp/english/offices/observat.html
Roppongi Hills Mori Tower
A 54-storey mixed-use skyscraper in Roppongi, the Mori Tower offers breathtaking views over Tokyo within a stylish setting. For some reason, this place has always felt more mature and classy to me than the others. Maybe because it's Roppongi, or maybe because the observation floor usually has some cool art exhibit running, which your ticket will allow you access to.
Tickets, which cost 1,800 yen per adult, include admission to the "Tokyo City View" indoor observation deck at 250m (52F) and the Mori Art Museum on the 53F. Access to the rooftop Sky Deck at 270m, which also serves as a helipad, costs an extra 500 yen.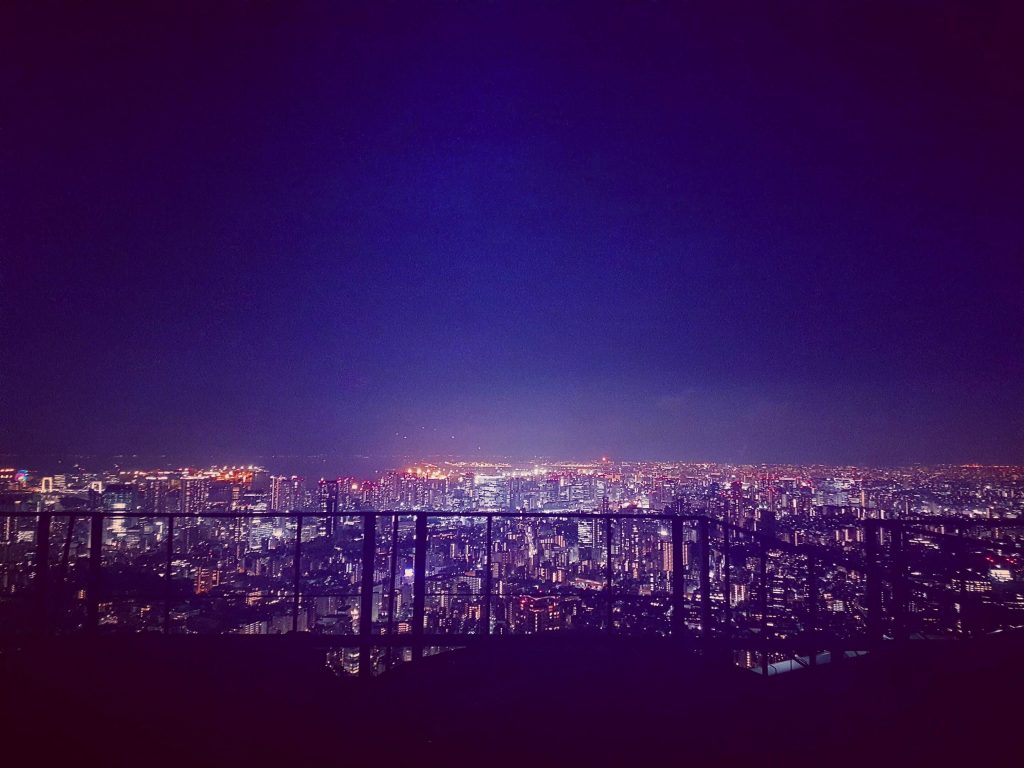 Although not quite as prominent as Tokyo Tower and Skytree, it provides something the other two can't: a city landscape that includes both of them. And given the proximity of Roppongi to Tokyo Tower, it really stands out.
I went once during the day to see a Marvel exhibit, which was very cool. Another time I went at night for a Space Invaders exhibit which happened to coincide with the lunar eclipse of January 2018. Needless to say, the Sky Deck that night was crowded with photographers. But the atmosphere was great. There was also a really interesting trick art exhibit going on at the museum at the time.
Opening hours: Weekdays/holidays 10:00 – 23:00 (Last admission: 22:30)
Fri – Sat/days before holidays 10:00 – 25:00 (Last admission: 24:00)
Mori Art Museum 10:00 – 22:00 / Tue until 17:00 (Last admission: 21:30 / 16:30)
Rooftop Sky Deck 11:00 – 20:00 (Last admission: 19:30)
Official website: https://tcv.roppongihills.com/en/
Shibuya Sky
The newest addition to the list of best views of Tokyo, Shibuya Sky sits at a height of around 230m on top of the newly-opened Shibuya Scramble Square, a multi-storey complex that is now the tallest building in the area.
It comprises of three zones:
Sky Gate – transitional space on the 14F to 45F. Elevators from the first floor go up to the 14th floor. You then have to transfer to another elevator exclusive for those with tickets to the observation decks. The "Sky Gate" basically just refers to the elevator journey to the top.
Sky Gallery – an indoor observation corridor on the 46F. A spacious and warm observation floor with glass walls to maximise views. The morning we went, there were very few people so we could spend as long as we liked at each corner. We also had a super clear view of Mt. Fuji!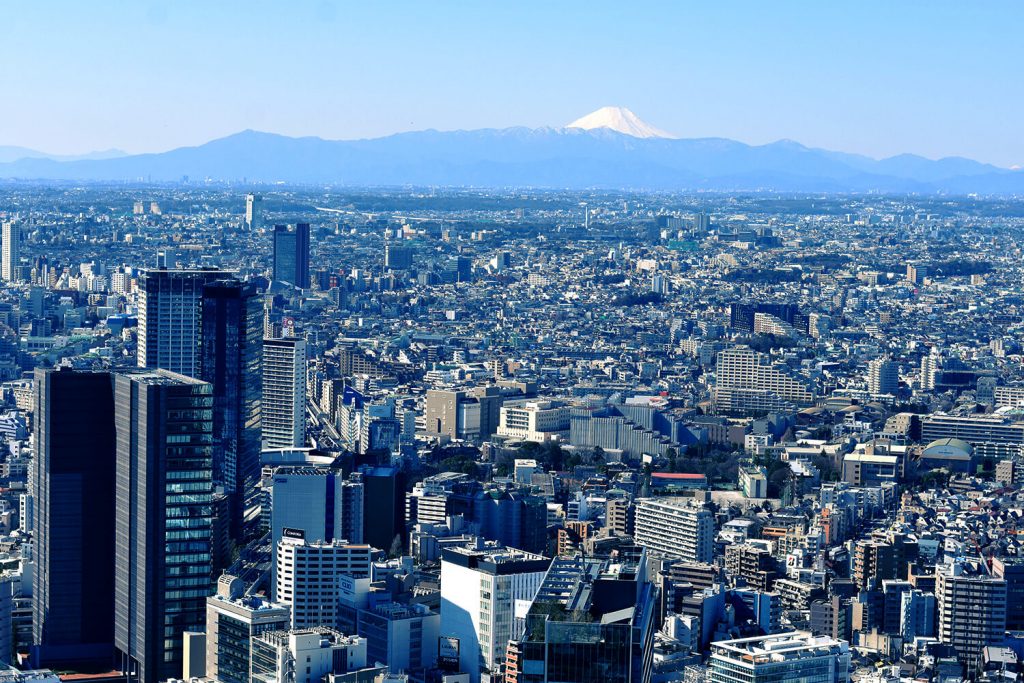 Also on this floor: a retro diner called Paradise that serves drinks, ice cream and light meals; and a souvenir store.
Sky Stage – an outdoor observation area on the rooftop. The main attraction. You have to put all your belongings except your phone/camera into a coin locker before going up. No tripods allowed. The locker costs 100 yen, but the coin is returned once you reinsert the key.
Once outside you take a set of elevators to get to the rooftop, which is complete with a luscious green helipad and hammocks to lie down on. There was also something blowing steam, but in retrospect that may have simply been a chimney of some sort. People line up to take photos in the corner with Mt. Fuji in the background, but if you're not fussed about having the mountain, any corner is just as good. You still get sweeping views of Tokyo from any vantage point.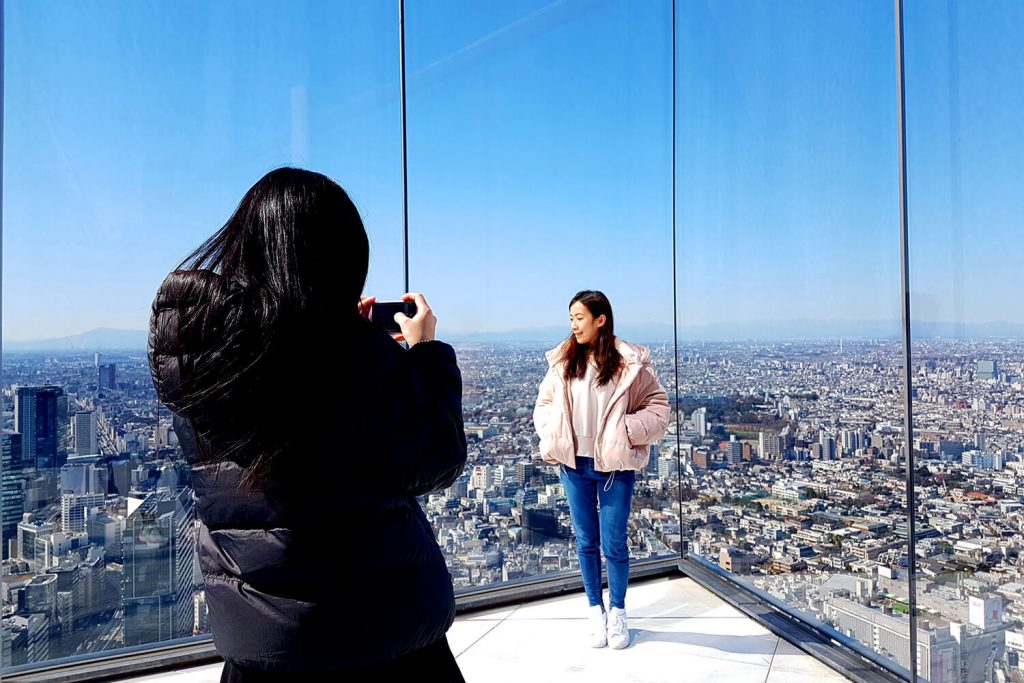 You are exposed to the elements on the roof though, so the wind chill can get pretty cold. We went during the day so the warm sunshine helped, but if going at night during the colder months you should definitely rug up.
Tickets cost 2,000 yen on the day, or 1,800 yen if purchased online. If buying online, you need to specify the date and a 20-minute timeslot in which you will enter the facility.
Opening hours: 09:00 – 23:00 (Last admission 22:00)
Official website: https://www.shibuya-scramble-square.com/en/
Which of these observation points get your vote for the best views of Tokyo? Also, check out more things to do in Tokyo.