Earlier this month, my friend and I headed to Yamagata Prefecture to see two spots long on my bucket list: Ginzan Onsen and the snow monsters of Mt. Zao. The impetus was to use the magnificent limited edition JR East Welcome Rail Pass 2020, which ended on February 26, 2021.
It just so happened that on that weekend, just a few weeks shy of the 10th anniversary of the Great East Japan Earthquake, another strong temblor struck the region. But more on that later.
A prelude: The JR East Welcome Rail Pass 2020
In line with government initiatives like the Go To Travel campaign, JR East last October launched a limited time only pass which, unlike the JR Pass, could be used by all foreign passport holders. This meant even permanent residents or those of us on long-term visas would be eligible. Which actually makes sense, because with no tourists allowed in the country at the moment, who else could use it?
The pass was by far the greatest discount the railway company has ever given to expats in Japan. For just 12,000 yen, you could get unlimited travel for 3 consecutive days on all JR East train lines, including shinkansen. The range of JR East lines stretches from Shizuoka Prefecture all the way up to Aomori Prefecture.
Despite the so-called "state of emergency," I couldn't pass up this last chance to make use of this once-in-a-blue-moon bargain. All while mask-wearing and social distancing as much as possible, of course.
First stop: the retro fairytale hot spring town of Ginzan
The moment I saw the magical night photographs of Ginzan Onsen around three years ago, it entered my bucket list.
Ginzan (銀山), which means "silver mine" in Japanese, is a secluded hot spring town in Obanazawa, Yamagata Prefecture, that was originally developed around a silver mine (hence its name).
Nowadays, it is an Instagram-favourite tourist spot due to its aesthetically-pleasing townscape, particularly in winter.
But is at night that Ginzan truly becomes magical. Soft lights emanating from the wooden ryokan and street lamps evoke a nostalgic, cosy feel from a bygone era. Add the snow and it almost looks like a scene from a fairytale.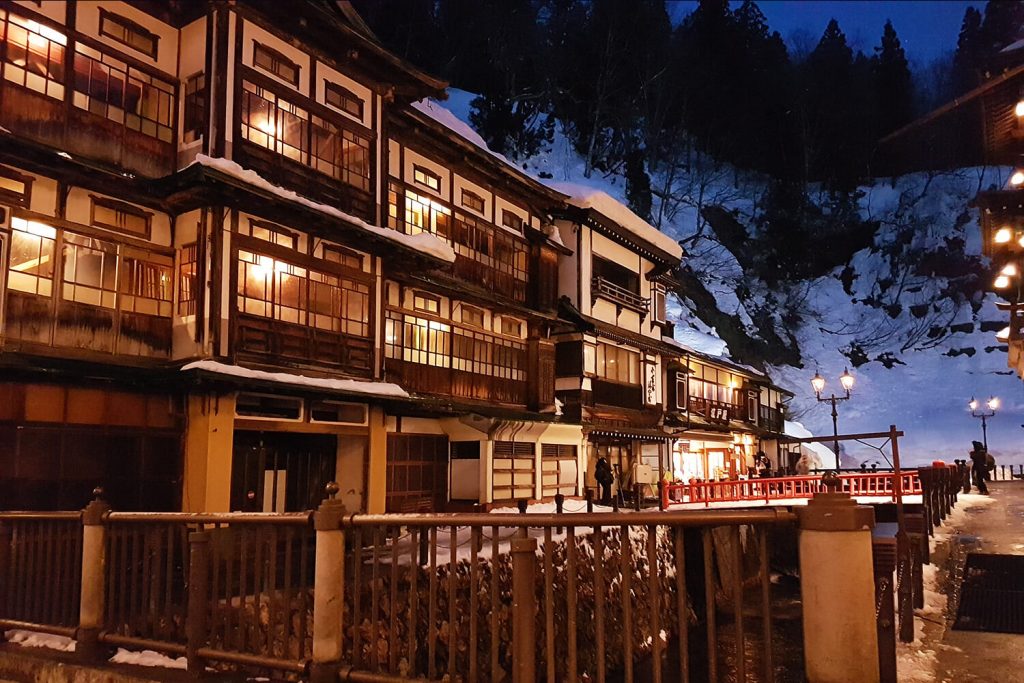 In addition to an assortment of hot spring ryokan, there are two public baths and a free foot spa for daytrippers who want to have a soak. Many of the ryokan also open their baths for non-staying guests for a fee. However, this service is currently unavailable due to the COVID-19 pandemic.
Outside of winter, visitors can see some of the mines by following a nature trail up into the valley.
Be sure to also try the special tofu made using the local hot spring water.
Getting to Ginzan Onsen: From Tokyo or Ueno Station, take the Yamagata Shinkansen to Oishida Station (around 3 hours). From there, transfer to a local bus that goes to Ginzan Onsen in roughly 40 minutes and costs 720 yen one way. The bus only comes a few times a day, and the company generally does not run extra buses if it gets full. So make sure you allow ample time to line up if necessary.
Alternatively, a taxi from Oishida Station to Ginzan Onsen costs around 5,300 yen one way. If split between four passengers it'll come to around 1,500 yen per person. So it is not an unreasonable option if all else fails.
Next: The snow monsters of Mt. Zao
Snow monsters, known as 樹氷 [juhyo] in Japanese, are actually trees in high altitudes that are wrapped in heavy snow. This creates the appearance of an army of large monstrous creatures assembled on the mountain.
This was actually the third time I've been to Mt. Zao, and finally it was a success. The first time, I went to see the Okama Crater in summer, but the ropeway was suspended due to unfavourable weather conditions. The second time, I tried to see the snow monsters as a side trip from visiting the fox village in Shiraishi Zao, Miyagi Prefecture. But there had been an avalanche or something the night before and it was closed off for the day.
So finally, this time, the weather conditions were near perfect and I made it up. Many of the trees had branches sticking out of their snow outfits so the effect wasn't as stunning, but it was still fun to play in the powder snow up there.
Getting to the Mt. Zao snow monsters: From Tokyo or Ueno Station, take the Yamagata Shinkansen to Yamagata Station (around 2.5 hours). From there, transfer to a local bus that will take you up the mountain to Zao Onsen. A one-way trip costs 1,000 yen, but you can get a ticket set from the bus centre that includes the round-trip bus ride and all the ropeway trips to the snow monsters for 4,500 yen (a discount of 500 yen and much easier than fiddling with cash at every step).
Buses depart pretty much every hour until the evening, with the trip taking around 40 mins. Once you alight at the terminal up in the mountain, walk around 10 minutes through the pleasant hot spring and ski village to reach the Zao Ropeway Sanroku Line. Note that this is different from the closer Zao Chuo Ropeway and there is very little signage along the way. So you may need to ask for directions.
The ropeway will take you to Juhyo Kogen Station in 7 minutes. From there, you will need to transfer to another ropeway for around 10 minutes to reach the summit. It is very cold up there and the wind chill is painful on bare skin so make sure you rug up well — scarf, gloves, beanie, the works. You are quite literally among the clouds. The snow can also be blinding, so sunglasses may also be a good idea.
The summit is actually the start of a skiing/snowboarding course, which is surrounded by the snow monsters. Most people were there to ski, but there was also no shortage of stragglers like us who just went to see the trees.
And then, a magnitude 7.3 earthquake rocks our plans
Our plan for the weekend was to basically head to Ginzan Onsen on Saturday, stay the night in Yamagata, then hit up Mt. Zao on Sunday before heading back to Tokyo. Everything was going quite smoothly.
On Saturday night, after we had dined on local delicacies at an izakaya and retired to our hotel, the room started shaking. It was 11:07pm, my friend was watching TV, and I was, um, on the toilet. Thankfully, I had just finished my business when I heard the warning go off on her phone (for some reason it doesn't go off on mine). The shaking started soon after and lasted a good 30 seconds — longer than usual. We were on the fourth floor so it wasn't too intense, but I could tell it was stronger than usual. It felt like a 5 or 6 in seismic intensity, and it turned out I was correct.
All the TV channels promptly switched to BREAKING NEWS and began to immediately report on the temblor. Footage from Sendai and Fukushima showed strong vertical shaking and it became obvious the epicentre was there. But with no significant aftershocks, things calmed down soon after and we went to sleep.
The next day
The next beautifully sunny morning, it was business as usual as we boarded the bus to Mt. Zao without any issues. After enjoying the snow monsters, my friend decided to go soak in a hot spring while I had a late lunch at a family-run vegetarian cafe. I was browsing my phone while waiting for my meal when I read news that all Tohoku shinkansen trains were cancelled due to the quake. I began to frantically search for alternate ways to head back to Tokyo but it was futile — all trains, not just shinkansen, departing from Yamagata were suspended. Highway buses were scarce and most had already left by that time of day.
To cut a long story short, when we arrived back in Yamagata, JR staff told us some local lines were resuming operations today. If the 17:35 local train to Yonezawa came on time, there was the last ditch option of making the connections to Niigata, from where shinkansen were still running, and making it back to Tokyo that night.
We stood on the tracks in the cold, with many other travellers, waiting for the train. But it never came. Close to an hour later, JR staff finally came down shouting, "is anyone going to Tokyo?" to which a few hands, including ours, went up. The staff ushered us back up to the station where they apologized profusely, and said the train was still being checked and we wouldn't be able to make the connections to Niigata tonight after all. They then said they would organize and pay for a hotel for us tonight, which was a decent consolation.
They put up us at the Hotel Metropolitan, a chain of hotels operated by the JR railway company near stations. No complaints there — the room was modern, warm and very comfortable.
Getting home
The next morning, we were told shinkansen services had resumed to Fukushima, so we could use a combination of high-speed and local trains to get back to Tokyo.
While searching for the times and connections, a local reporter for Asahi Shimbun spotted us and interviewed us briefly. I later searched for the article and found it! The part which alludes to us is located towards the end:
15日朝、JR山形駅には東京―福島間の運休のお知らせが掲示され、駅員に運行状況を確認する利用客の姿が見られた。東京から友人と2人で旅行に来たという女性(35)は14日に帰京する予定だったが、延泊を余儀なくされた。15日も山形新幹線は福島までという状況から「在来線を乗り継いで帰ります」と話した。

https://www.asahi.com/articles/ASP2H6RTSP2HUZHB001.html
Translation: On the morning of the 15th, a notice at Yamagata Station showed that services between Tokyo and Fukushima remain suspended, and passengers were seen confirming the status of the trains with staff. A woman, 35, who had come on a trip from Tokyo with her friend said they had intended to go back on the 14th but had to stay an extra night. With the Yamagata Shinkansen still only resuming services up to Fukushima on the 15th, she said they would "return by transferring to local lines."
Yes, many transfers. In the end, the journey took us around 6 hours and we had to change trains no less than 5 times. But we eventually made it, and were even able to down some Macca's along the way.