Trains are probably my favourite way to travel, and as such I always try to take at least one inter-city train when exploring a new country. In Vietnam, I took the Reunification Express as a sleeper train from Hanoi to Dong Hoi (around 10 hours), and again as a normal train ride from Hue to Da Nang (around 2.5 hours) two days later.
While no sleep was had, it was an interesting experience and a great way to interact with local Vietnamese. If you're thinking of taking the route, here are some pointers and a recount of my experience.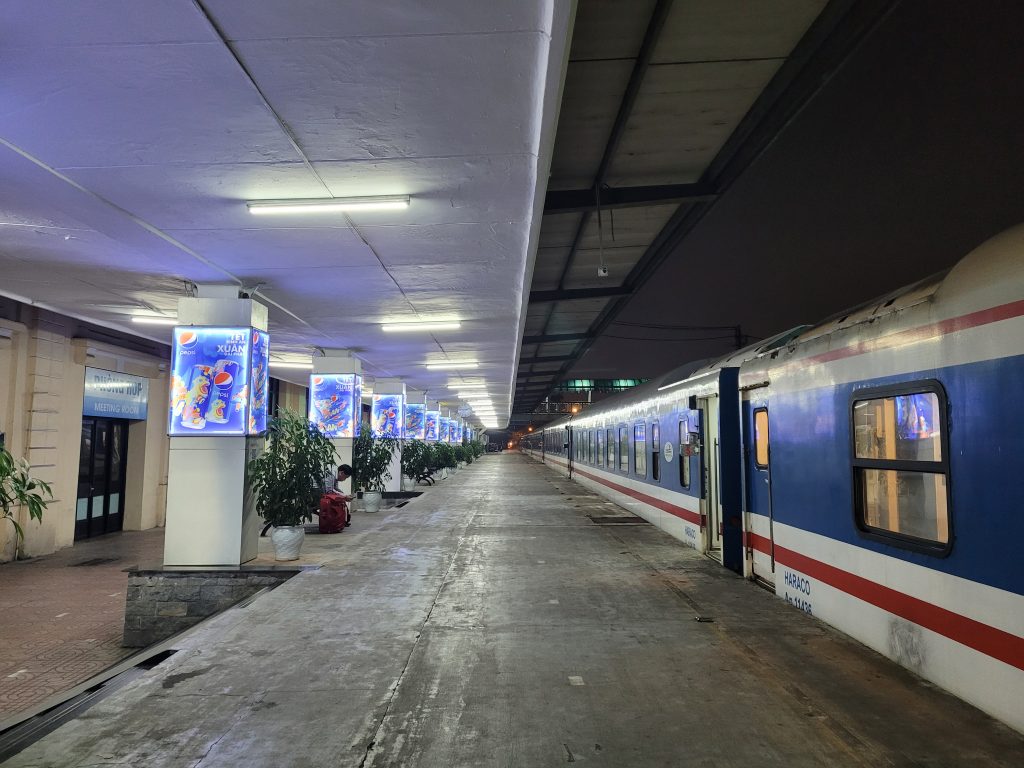 Quick Guide to the Reunification Express
The Reunification Express refers to any train serving the over 1,700-kilometer route connecting Hanoi to Ho Chi Minh City (Saigon). The line, which was repaired after being destroyed thousands of times during the Vietnam War, has become a symbol of a reunified north and south.
Trains leave four times a day in both directions, with additional services during peak periods. Make sure you check the timetable in advance.
There are five types of seats available: hard seater, soft seater, hard sleeper (6 beds), soft sleeper (4 beds) and VIP (2 beds).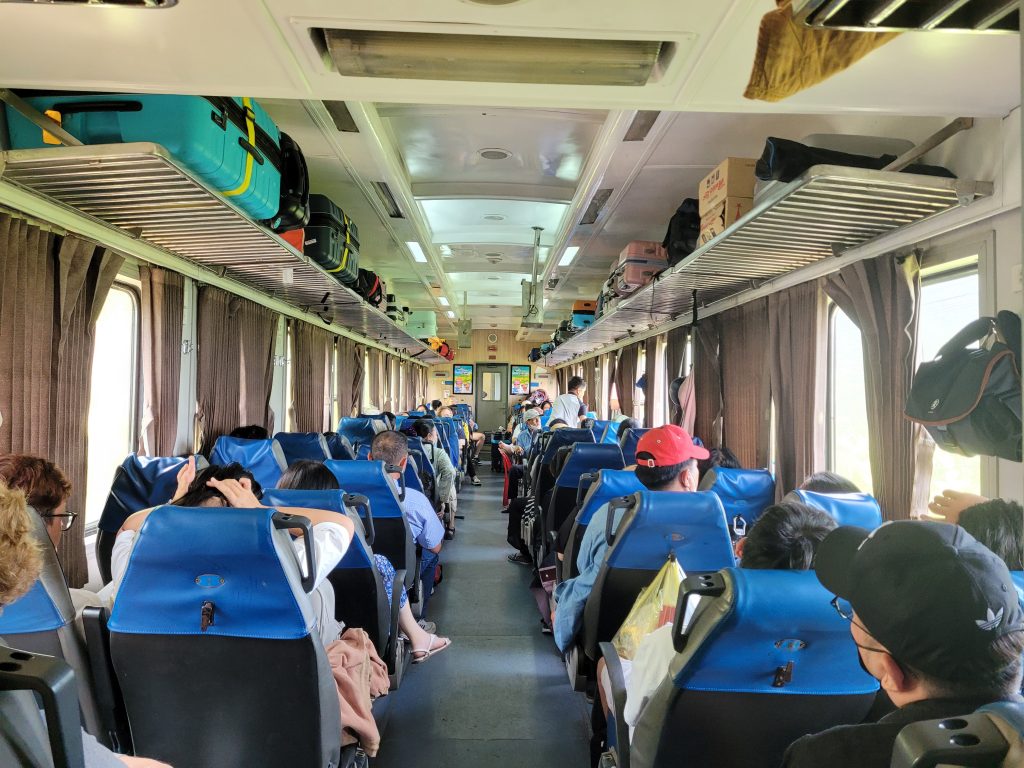 Baolau.com is the best option for foreign travellers wanting to book trains in advance while outside Vietnam. While it does charge a small service fee, it is well worth it. Those of us without a Vietnamese bank account are unable to purchase tickets on the official Vietnam Railways website. Baolau will issue a mobile ticket/QR code that can used to board the train directly. No need to exchange anything at the station on the day.
There are toilets and a sink in each carriage, although toilet paper is not replenished. So make sure you bring your own stash or have some tissues on hand.
Train staff will periodically push a cart selling drinks, fruit, cup noodles, etc. through every carriage in case you need to get a bite. There is also a restaurant car in the last (or first) carriage of the train, although it is nothing fancy.
Make sure you bring a jacket as the air-con is turned on full blast.
Hanoi to Dong Hoi: The sleeper train experience
I arrived at Ga Hanoi (Hanoi Station) around 9pm, well before my train Vietnam Railways SE1 departure time of 22:15. Generally, you should try to be at the station at least 30 minutes prior.
There were already plenty of people there, including many other foreigners, although they were not all taking the same train. The station reminded me of structures in Central Asia: spartan, with a Communist vibe.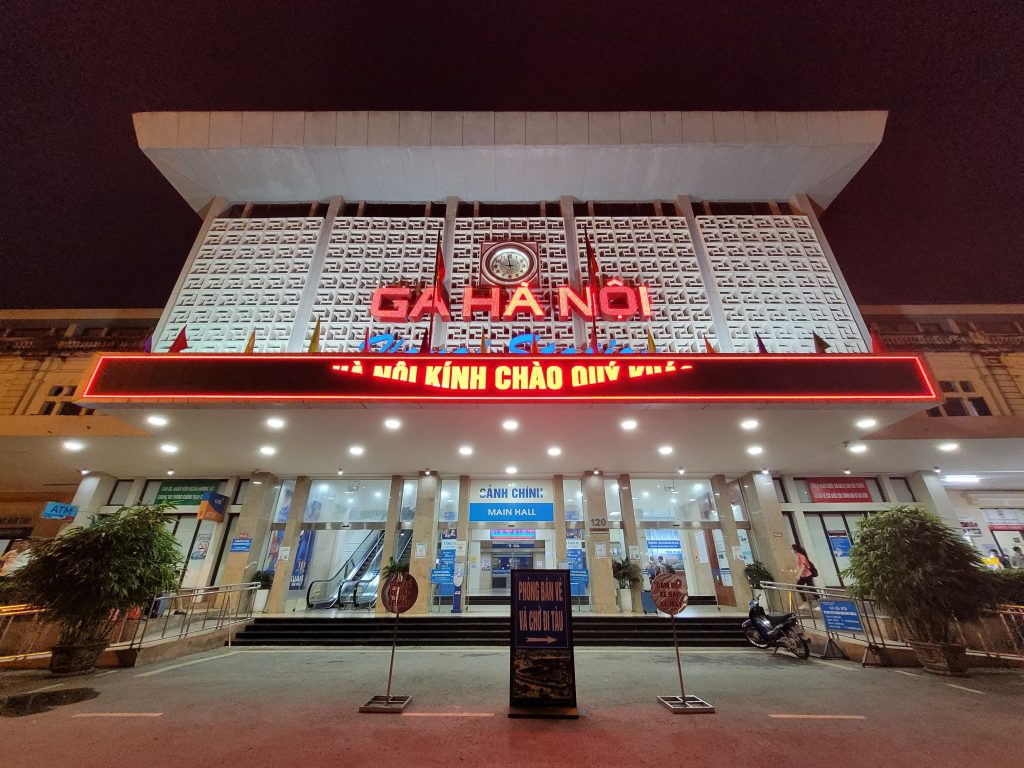 Boarding for the train opened 15 minutes before departure, and I was one of the first to get on. The four-bed cabin was clean and similar to those on sleeper trains I had taken in Europe, Kazakhstan and China. I tried to charge my phone using the power outlet above my bunk (lower left), but it didn't seem to work.
A Vietnamese girl soon entered my cabin, guided by a male train attendant. They talked for a bit, and although I could not understand them, I gathered they knew each other. After he left, I offered a greeting and she said, "not Vietnamese?" I confirmed as such, and asked "do you speak English?" To my surprise, she said she did. I thought she was pretty cool, but little did I know she would later be the main reason I would not sleep that night.
Another Vietnamese girl had also joined us in the cabin, taking the other lower bunk. But she shook her head and seemed a little freaked out when I asked if she spoke English. I didn't speak to her for the rest of the journey.
The train departed on time and started its long, rumbling journey through the streets of Hanoi and further south. I watched the city pass by for a while before lying down.
The reasons why there was no sleep
In almost all my previous experiences on sleeper trains in Europe and Kazakhstan, I'd usually been able to get a few decent hours of sleep. The combination of lying down, the soothing rocking of the train, and accompanying white noise, usually does the trick. Plus, the cabinmates I had were usually very quiet and slept once the lights were off. So I had expected a similar experience.
Boy, was I wrong.
Everything that could have prevented me from sleeping on that train that night happened.
Reason #1: Noise
A couple of hours into the journey, nearing midnight, I asked the English-speaking girl if I could switch the lights in our cabin off. The other girl, with AirPods in her ears, already seemed to be asleep. The English-speaking girl said sure, she didn't need the light.
She was on the bunk above me watching something on her phone, without earphones, that was speaking in an incredibly high-pitched voice. It was a little annoying, but I put on my own earphones and she went to sleep not too long after.
But remember how I said she appeared to be the girlfriend (or something) of one of the train attendants? Well, he would pull open our door every hour to speak to her, or call her out for a smoke, without knocking. It didn't matter if we locked the door, because train attendants all have the key. This went on throughout the night, even when it was 3am and she had quite obviously fallen asleep. He didn't seem to care about waking her or anyone else in the cabin, even coming in at times to prod and shout at her.
At one point, she was obviously annoyed that he had woken her, and he didn't come for a couple of hours. But it seemed his self-restraint couldn't last much longer than that.
Reason #2: Smell
Whenever someone went out for a smoke, including the girl in my top bunk and presumably her train attendant boyfriend, the smell would waft into our cabin. It was probably worse because our cabin was closest to the end of the carriage, where people would stand to smoke.
At least once an hour, the disgusting stench of cigarettes would permeate throughout the train, making me want to bury my head in the thin quilt.
Reason #3: Temperature
While doing research for my trip, I had already read that the trains in Vietnam blast their air-con to artic temperatures. I prepared by bringing a jacket, but even with it on and the thin quilt over me, I still felt like I was in a fridge. It must have been worse on the top bunks, which were closer to the vents. I'm not sure how the English-speaking girl was able to bear it in her short shorts and skimpy top.
Reason #4: Movement
The train stopped way more frequently than I expected. I thought it was an express train that only stopped at key cities, i.e. three or four times throughout the night, but it must have stopped over a dozen times. And every time it did so with a jerk, the soothing motion that was lulling me to sleep would be disrupted.
Meanwhile, the other girl in the cabin appeared to have slept through it all. She had her AirPods in her ears, but still. I was envious at how oblivious she was to all of it. Maybe this type of experience is the norm for Vietnamese people. In any case, the train attendant shouted at her when the train was nearing her stop around 4am, whereupon she grabbed her stuff and stumbled off still half-asleep.
When the train approached Dong Hoi around 8am, I couldn't be more relieved. I grabbed my suitcase and said bye to the English-speaking girl (who had now moved to the lower bunk vacated by the other girl).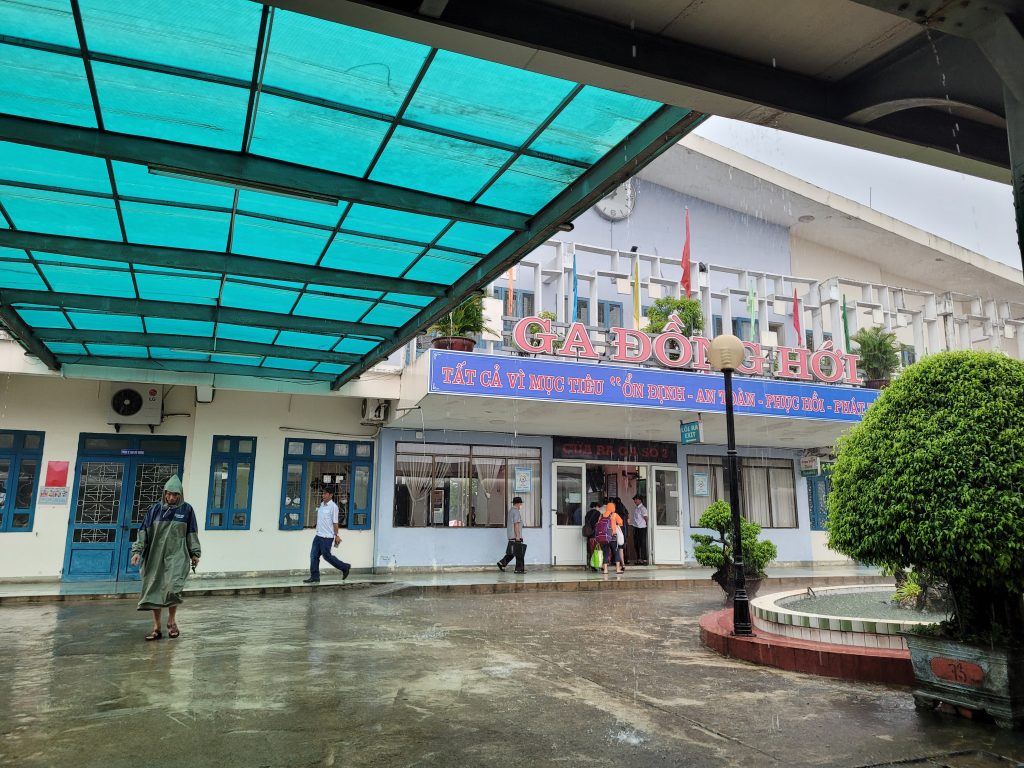 "You're leaving? Take care," she said.
"Yeah, same to you. Where are you headed?" I replied.
"Ho Chi Minh City," she said.
The travel time from Hanoi all the way to HCMC is over 30 hours. No wonder she didn't feel the need to sleep; she still had at least another 20 hours on the train.
Hue to Da Nang: Vietnam's reputed most beautiful train route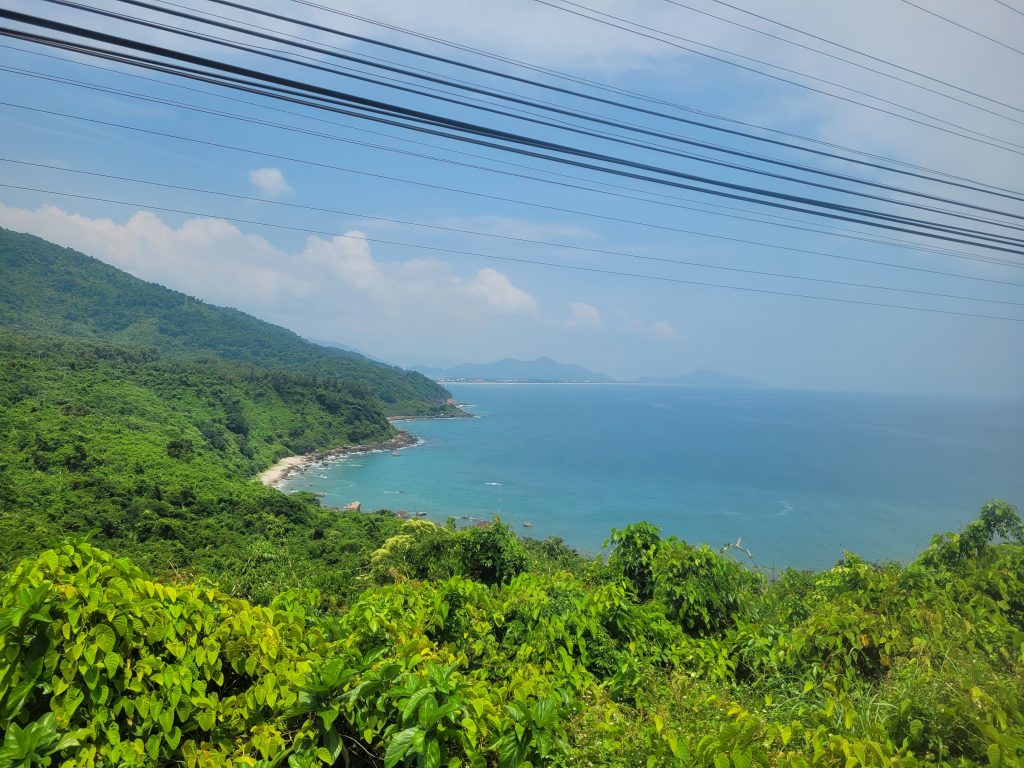 This trip was far more pleasant, if not for the sole reason that I did not intend to sleep. When booking on Baolau.com, none of the soft seaters were available so I booked the next cheapest option: a hard sleeper. It ended up being a great decision.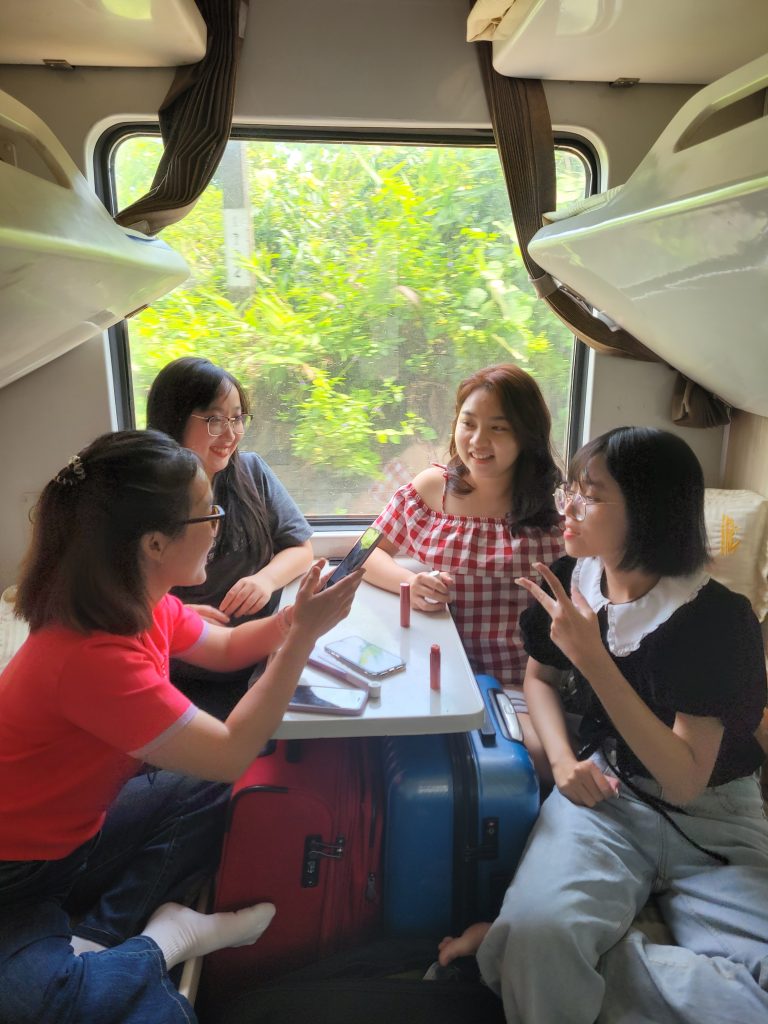 My cabinmates this time were four Vietnamese girls from HCMC in their early 20s, all who spoke fluent English because they had worked as assistants at the British Council (that was how they had become acquainted). They were all very friendly, and the 2.5 hour journey went by in a flash as we chatted about Vietnam and travel while stopping periodically to take pictures of the view. It was nice to get insights and learn more about the country from true locals.
The view did not disappoint either.
The train reportedly slows to 15 km/h at the beautiful Hai Van Pass and other spots for safety reasons, providing you with the perfect opportunity to take photos. If travelling from Hue to Da Nang, the coastal view will be on the left facing the direction of travel. So, from the cabin windows. On the other side is jungle with countless banana trees.
In summary
The Reunification Express is a great way to travel through Vietnam like a local, and get treated to some amazing views in the process. While the experience will vary depending on who you get in your cabin, pack a jacket and choose a cabin towards the middle of the carriage. This will at least help stave off the cold and cigarette smells, improving your chances for a good time. Other than that, just hope your cabinmate is not the (girl)friend of a persistent train attendant.