During my trip to North Korea last September to see the Arirang Mass Games, I was able to purchase some snacks from a North Korean supermarket. Not having much time, I just picked whatever looked tasty based on the photo on the packaging. My Korean was nowhere near good enough to decipher the writing on the spot, so I got a few surprises when I put them in my mouth. I only figured out what they were exactly after returning to Japan. I asked some South Korean friends, and did some of my own research. Well, now knowing full well what I bought, here's my honest opinion of how each snack tasted!
1. 락화생맛 꼬치과자
Peanut-flavoured Skewers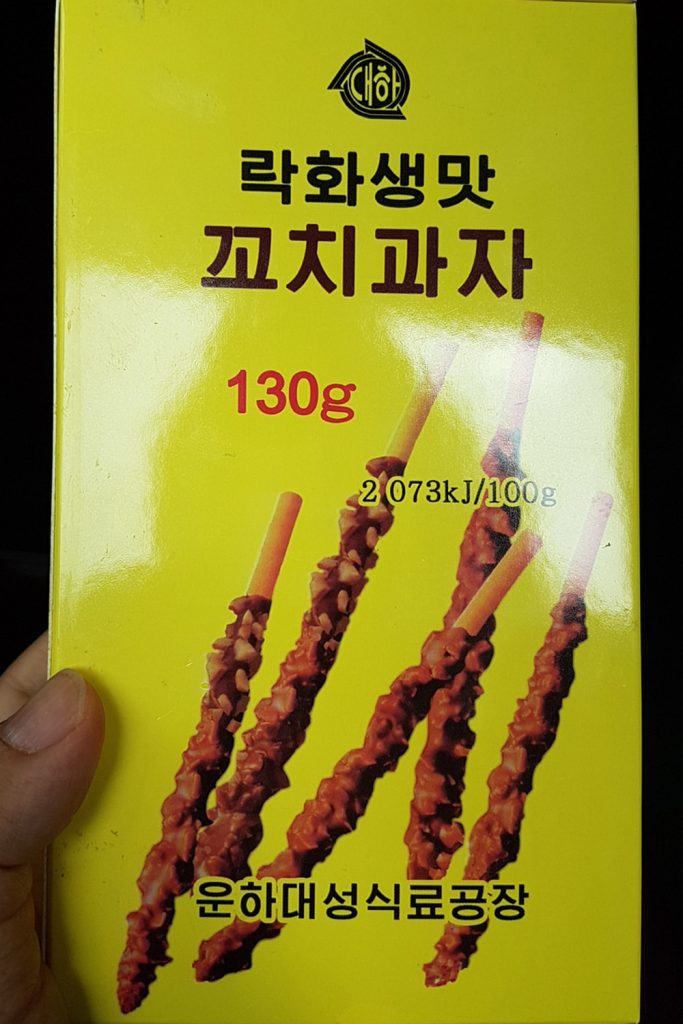 Nutritional Information: 2073kJ / 100g
Expectation:
A North Korean-version of Almond Crush Pocky, one of my favourite Pocky flavours in Japan. I expected chocolate coating thick shards of crunchy almonds on a stick.
Reality: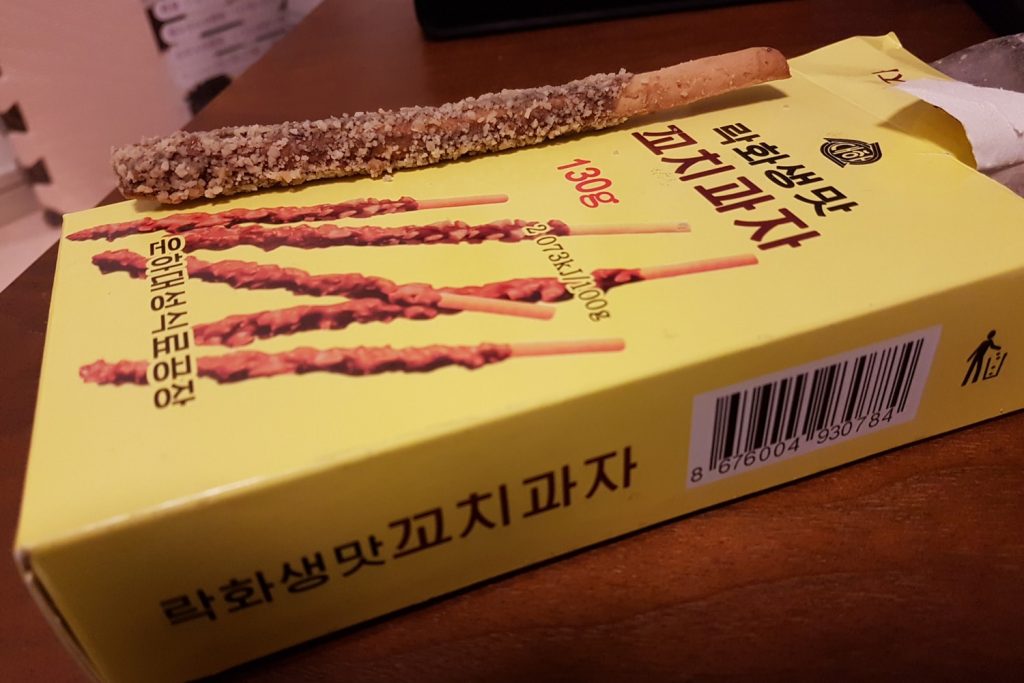 Sticks spread thinly with a brown paste resembling chocolate, and dusted with ground peanuts. They tasted like peanuts and the biscuit stick. Not bad per se, but definitely different to Almond Crush Pocky. Also different to the picture on the packaging, which I was misled by.
Rating: 5/10
2. 김맛 과자
Seaweed-flavoured Snack
Nutritional Information: 1919kJ / 100g
Expectation:
A crunchy savoury cracker with seaweed pieces embedded in them.
Reality: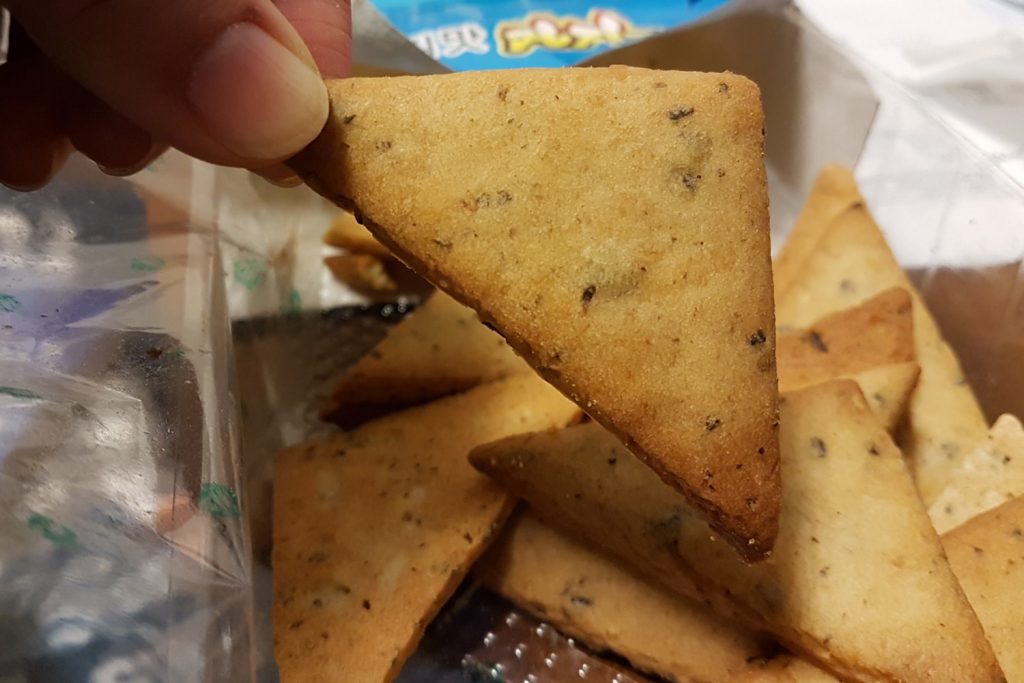 Hard, slightly-sweet biscuits flecked with what I presume are seaweed pieces. I couldn't taste any seaweed, and to be honest the biscuits didn't taste like anything. Just like baked flour with sugar. Was a little disappointed with this as I wanted something savoury not sweet.
Rating: 3/10
3. 커피 과자
Coffee Biscuit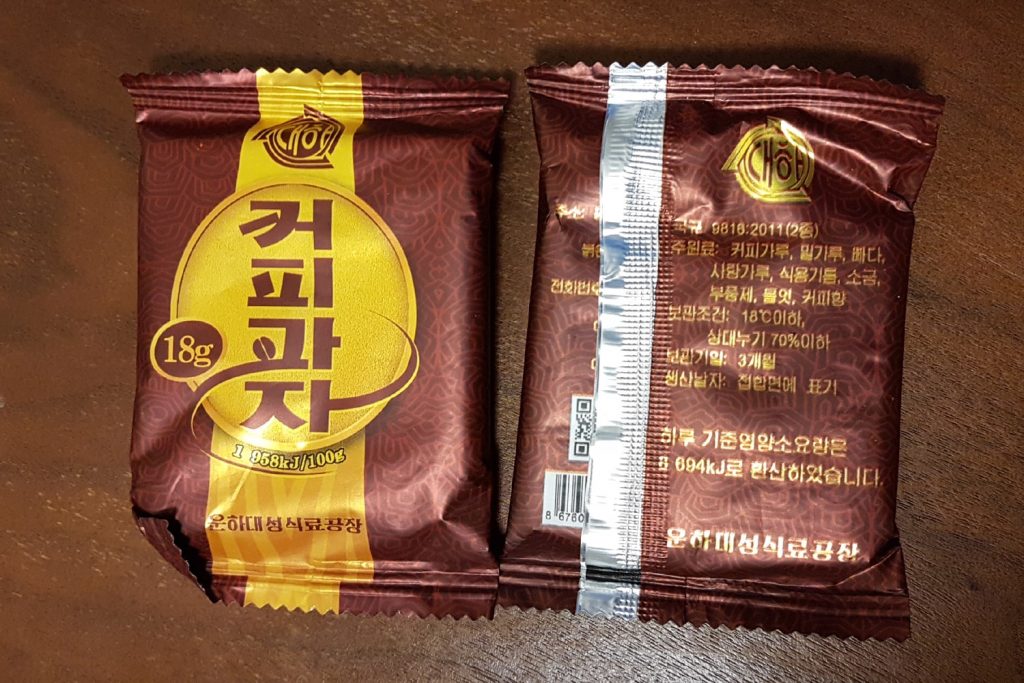 Nutritional Information: 1958kJ / 100g
Expectation:
Nothing in particular. I couldn't read it and there was no picture, but the individual packaging made it a winner for handing out as souvenirs.
Reality: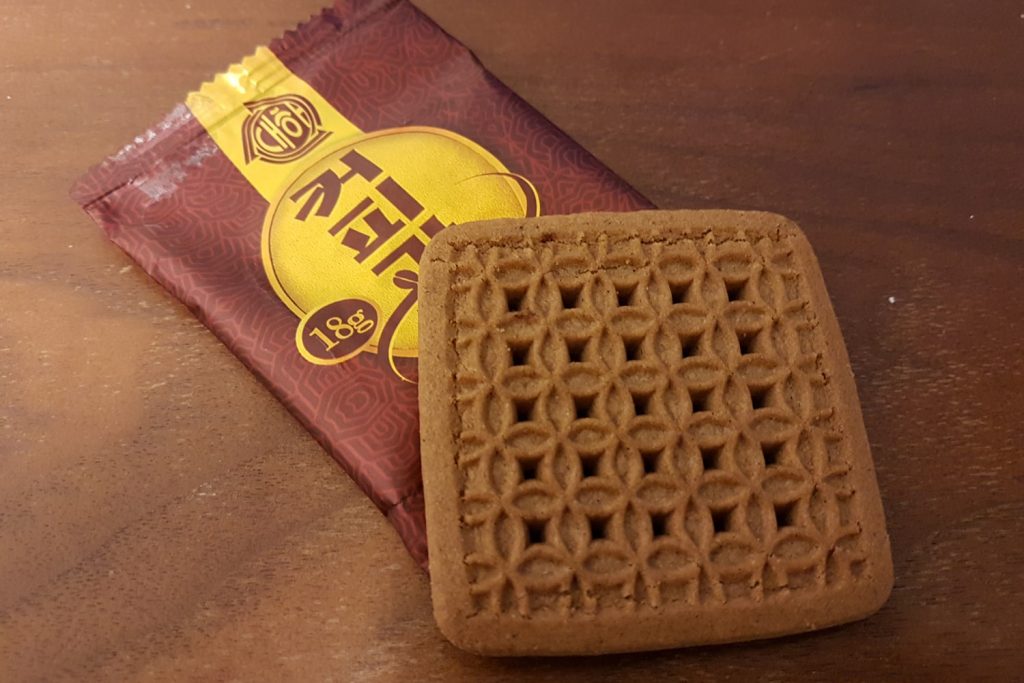 No expectations means no disappointments. After I ate one myself, I realised they were coffee-flavoured biscuits. This was confirmed by my South Korean colleague when I gave her one. This is probably the most decent-tasting of all the snacks I bought. While the coffee taste is mild, it is undeniably coffee, and the biscuit is crunchy. As far as North Korean snacks go, not bad at all.
Rating: 7/10
4. 쵸콜레트
Chocolate Bar
Nutritional Information: 2348kJ / 100g
Expectation:
Just a good ol' dairy milk chocolate bar.
Reality: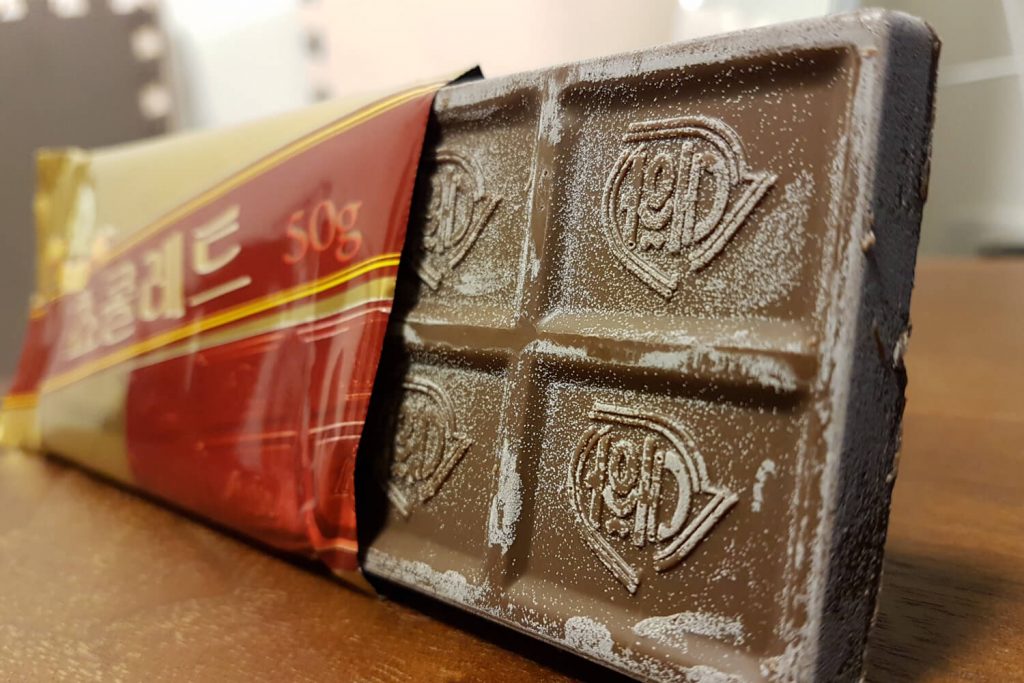 A chocolate bar with 20% of the taste. Not awful, but definitely too bland for developed country palates. Some fellow Australians in our tour group "accidentally on purpose" left their stash in their hotel room when they checked out. However, my South Korean friends upon tasting it said it reminded them of chocolate from long ago. Very light tasting with not much chocolate or milk solids in them. One can posit that the lack of flavour and texture correlates to the standard of living in those times. And North Korea today lags behind South Korea some 30-40 years, so it makes sense that their snacks do too.
Side note: You may have noticed a QR code on the packaging like we did. Since they don't exactly have internet access in North Korea, we were perplexed at why it was there. So we read it with a QR code reader on our phone. And discovered it simply led to a memo of ingredients used. Haha.
Rating: 5/10
5. 코코아 겹과자
Cocoa-layered Biscuit
Nutritional Information: 2750kJ / 100g
Expectation:
Whoa, these looked like really something from the image on the packaging. I was envisioning Ritz-like sandwich crackers with cream cheese on one layer, and chocolate on the next.
Reality: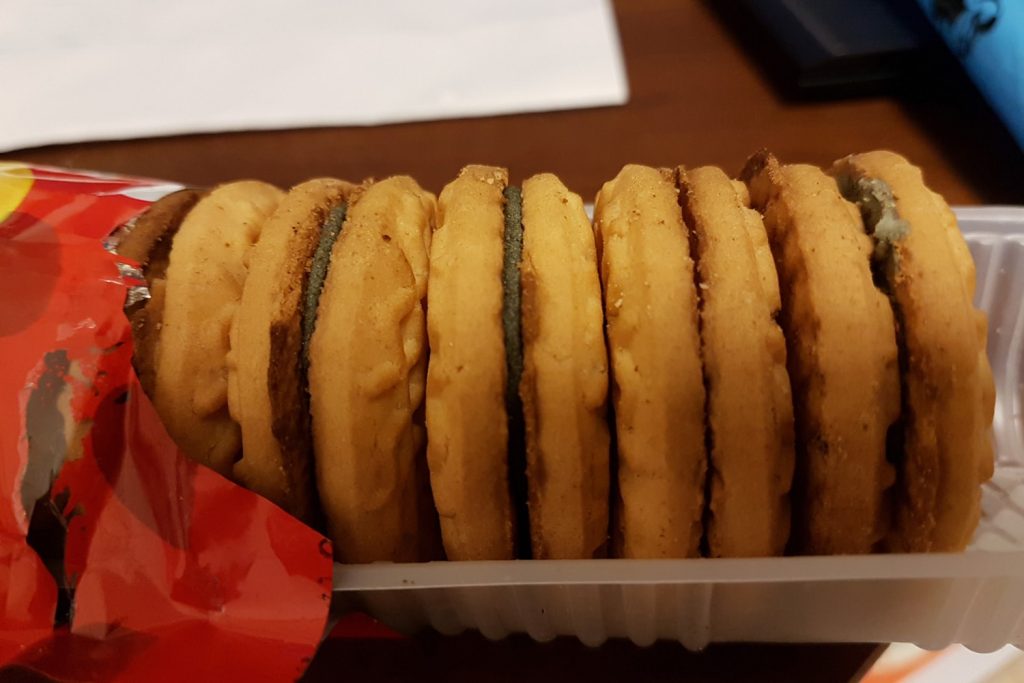 Um, no. This one was probably the most shocking of all the North Korean snacks I bought. Not only were there a different number of layers (only one), what was inside…did not resemble chocolate in the least. First of all, it was dark green. Second of all, it stuck the two biscuit pieces together like glue – really hard to pry them apart. Third of all, it did not taste like chocolate. It tasted like…nothing really. The floury biscuit overwhelmed whatever was inside. Regardless, I could barely stomach one bite. I managed flaunt off most of it to brave colleagues willing to try. The last remaining biscuit is still sitting in my drawer at work. Anybody want it? XD
Rating: 2/10
Final Thoughts
And there you have it, my review of 5 North Korean supermarket snacks.
It's worth adding that I in no way consider it fair to compare the quality of North Korea snacks with those of its neighbours. I know North Korea is very poor compared to Japan and South Korea, and can't afford to use higher quality ingredients. They really have more important things to worry about, rather than the richness of their milk chocolate. And while none of the supermarket snacks were particularly delicious, they didn't give me a stomach ache or anything either. So hats off to them for that at least.
I wrote this article because I felt amused at the surprises I got due to not being able to read what I was buying. And also with the deceptive images. I feel fortunate to have been able to taste snacks that locals in Pyongyang, albeit the more well-off ones, eat at all, and not only the foreigner-catered restaurants. If you're hungry for (pun intended) more North Korean snack ratings, check out these articles by the LA Times and NKnews.org. And if you're into more traditional snacks, this article by the BBC is quite enlightening. I really hope the day will come when North Koreans can enjoy all the foods we take for granted.
Have you tasted any North Korean snacks? If so, what's your opinion? Despite not being a foodie, I do have a category for eating. Check it out if you're interested in more reviews and write-ups about food.