I stumbled across Nest Hotel Tokyo Hanzomon when browsing through listings on Agoda, and was immediately drawn to the stylish and moody vibe it evoked through the photos. Since the price was very reasonable (less than 4,000 yen per night), I decided to book a 15 sqm twin room for three nights.
It ended up being one of the best staycations I've had so far. So good I decided to write a whole post about it. Things I loved about Nest Hotel Tokyo Hanzomon:
The vibe
The hotel looked exactly as promised, from the exterior to the lobby to the guest rooms. Hues of woody brown and soft lighting perfectly fit in with the "nest" theme of its namesake, with everything feeling very cosy. I'll let the photos do the talking.
The beautiful, smooth design extends to the website, which says a lot about to me the artistic sense of the operator. The English is also top notch; they obviously got a proper translation done unlike many official sites.
Room facilities and amenities
Most mid-range Japanese hotel rooms look the same, so Nest Hotel Tokyo Hanzomon really stands out with its wooden venetian blinds and leather chairs. I also really appreciated the little table since did some teleworking during my stay.
All rooms equipped with world-class Simmons beds and large 40-inch LCD Sharp TVs (32-inch for single rooms). One slight caveat is that they are not smart TVs, so you can't cast your smartphone or PC screen onto them. This means you can only use them to watch Japanese TV, which we all know is just full of game shows and people saying "oishiiiiii" to everything they eat.
The bathroom is a standard unit bathroom you see everywhere in Japan, but the brown theme continues.
I really liked the fridge with the transparent door – it makes it easier to remember you have stuff in there. I think all hotels should have transparent fridges. And the kettle is Balmuda, a high-range brand of stylish electronics in Japan. Although it could only boil 600ml of water each time, it was really fast at around 5 minutes.
Checkout is at noon
As a late sleeper, I loved this so much. Most hotels have a checkout time of 10am or 11am, so noon is really a luxury. Late checkout also means the housekeeping doesn't start making a ruckus with their cleaning until later. Yay for more peaceful mornings!
Close to station
Nest Hotel Tokyo Hanzomon is, as suggested by its name, located just a stone's throw away from exit 1 of Hanzomon Station on the Tokyo Metro Hanzomon Line. (That's a lot of Hanzomons in one sentence).
It can also be easily accessed by Kojimachi Station on the Tokyo Metro Yurakucho Line.
Quiet surroundings
The hotel boasts on its website that it is "a hideaway in the center of the city," and it really does feel like one. Despite being located in the central business area, the building itself is on a quiet side street largely devoid of traffic. The slight con to this is that there isn't a supermarket or many places to eat in the immediate vicinity. However, a quick walk to Kojimachi (7 mins) or Yotsuya (15 mins) will yield you a variety of options, so it's not a huge deal.
Walk in the other direction and you'll soon hit Chidorigafuchi Park and the Imperial Palace, so the hotel also makes a decent base for sightseeing.
Free breakfast (*currently suspended)
The hotel previously offered a free breakfast of natural yeast bread to guests, but unfortunately this was stopped due to the pandemic. A little disappointed as the bread definitely looked good in the photos on the website. There was a Balmuda oven toaster and microwave on the bookshelf to the right, so I assume this is where the bread would have been left.
Nest Hotel Tokyo Hanzomon: Final thoughts
A three-star hotel with a slightly extravagant feel, Nest Hotel Tokyo Hanzomon completely met my expectations and more. I would definitely recommend to both travellers and staycationers. At under 4,000 yen per night, it is a real steal for the level of comfort and convenience you get.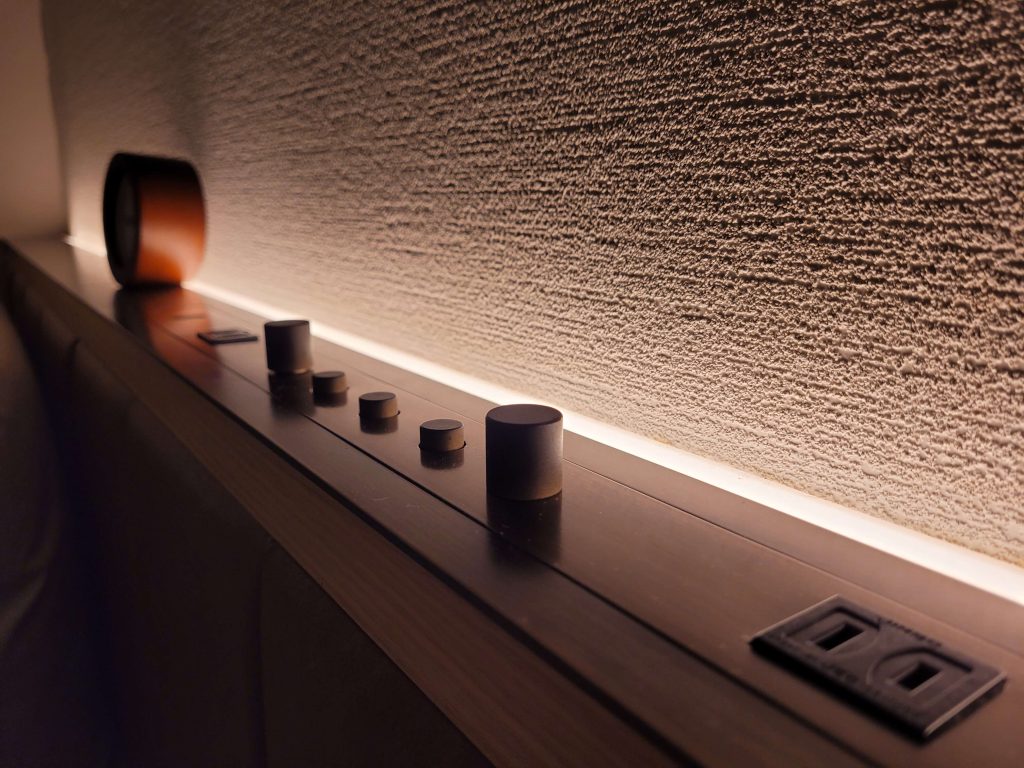 Looking for more unique and interesting stays? Check out my reviews of Henn Na Hotel Asakusabashi, a branch of the famous robot hotel chain, and Hotel R9 The Yard, where you can stay in a shipping container.